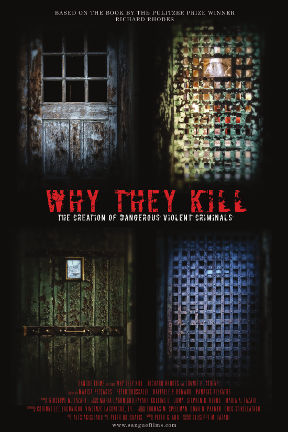 Following a dozen screenings across seven states, Fox TV of Alaska broadcast Why They Kill to its 700,000 plus subscribers across the state on Thanksgiving Day. The award-winning documentary was written and directed by Professor Giuseppe M. Fazari of the Department of Criminal Justice.
The documentary, Why They Kill, is based on the critically acclaimed book of the same name written by Pulitzer Prize-winning author Richard Rhodes. The book was based on the research of Seton Hall Criminal Justice Professor Lonnie H. Athens.


The documentary takes an in-depth look at why some men, women, and even children assault, batter, rape, mutilate, and murder through the lens of Professor Athens' breakthrough research and singular theory which the New York Times noted, "offers a commanding perspective on human violence."

Known as the "Violentization Theory," Athens' work uses his interviews with killers as a basis to explain how violent criminals develop, how violent communities are created and transformed, and how violent acts are committed and prevented.


The theory is fleshed out within the documentary through a series of case study dramatizations depicting the stream of consciousness of some of the country's most violent criminals, the homicide detectives who pursue them and the lawyers charged with their prosecution. 


"I decided to make the film because having worked in the judiciary for most of my career, I felt that it was imperative for those charged with the administration of justice to understand the implications that the Violentization Theory has in our field," said Seton Hall Professor Giuseppe M. Fazari. "Ultimately, my goal was to convey the theory in a new medium so that policymakers, educators and practitioners among other stakeholders can incorporate its insights into the criminal justice system to make true reform a reality."
He added, "Without any distribution budget to speak of, this airing in Alaska was an important next step – and it has brought increased interest from a number of important outlets, including the Manhattan Neighborhood Network which broadcasts to all five boroughs of New York, the National Association for Court Management and West Point, where we'll be screening the documentary in the spring 2019 for cadets." 


Noteworthy to date, the documentary has been:
A Fox televised broadcast across the state of Alaska on Thanksgiving following the NFL football games of the day
An official selection of the Docs Without Borders Film Festival where it received an Award of Excellence in the Research Category
An official selection of the Ocean City Film Festival in Maryland
An official selection of the New Filmmakers Film Festival in New York
An official selection of the Golden Door International Film Festival in New Jersey 
Screened at the International Congress of Qualitative Inquiry in Illinois
Screened at the Healing Trauma Conference in Wisconsin
Screened at the Praxis Conference in Virginia
Screened as a one-night only premiere event at the Brookfield Theatre of the Arts in Connecticut
Categories: Arts and Culture