Thursday, August 30, 2018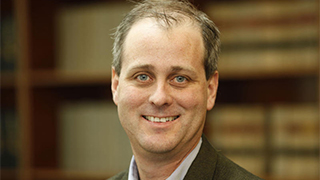 Seton Hall faculty member Matthew Hale was appointed to complete a three-year term on the Highland Park Borough Council. In his new role, Hale will chair the Borough's Health and Human Services Committee after previously chairing the Digital Data Task Force.
"I am really happy and excited to be able to serve on the borough council for Highland Park. I think it is the best place to live in New Jersey and want to make it even better," said Hale. "It will also be really cool to see how the things I teach in my public and nonprofit administration classes actually play out in a real-world setting."
Highland Park is a borough of Middlesex County and is home to more than 14,000 residents. The borough is very community-oriented and hosts a number of events and activities for residents including a weekly Friday farmer's market, "Arts In The Park" and "Walk with the Mayor."
At Seton Hall, Hale is an associate professor in the Department of Political Science and Public Affairs within the College of Arts and Sciences as well as the chair for the Master of Public Administration (MPA) program. He teaches core courses for the MPA program including Environment of Public Service, Public Policy Analysis, Public Sector Leadership, Public Sector Ethics, Financial Management and Budgeting, Research Methods and Strategic Management and Governance.
Hale received the Dr. Thomas J. Davy Academic Achievement Award from the New Jersey Municipal Management Association in November 2017 in recognition of his outstanding work as an educator in the field of public administration. Hale was nominated for this award by his former students.
Prior to transitioning to a career in academia, Hale worked in politics. He was an aide to California Senator Barbara Boxer and in the press and candidate advance operations for several other local, state and national political campaigns.
As a regular media commentator on New Jersey politics and the author of a regular column called "So…What about this?" for InsiderNJ.com, Hale has appeared in a number of different interviews and articles leading up to and following New Jersey's June 5 primary elections including those in:
"Attack ads heat up U.S. Senate in New Jersey." News 12 New Jersey, August 21, 2018.
"Christie's shadow still hangs over New Jersey GOP." Matt Friedman, POLITICO New Jersey, July 25, 2018.
"Democrats overwhelmingly out-fundraising GOP congressional candidates." Michael Aron, NJTV News, July 17, 2018.
"New Jersey Democratic House candidates crushing Republicans in fundraising." Matt Friedman, POLITICO New Jersey, July 16, 2018.
"Menendez's Grip on Senate Seat Loosens After Punishing New Jersey Primary." Terrence Dopp and Elise Young, Bloomberg, June 6, 2018.
"New Jersey's Primaries Will Set the Stage for Competitive Midterm Elections." Kate King, The Wall Street Journal, June 4, 2018.
In these upcoming months, Hale will have quite a lot to balance including teaching classes, fulfilling duties as a Highland Park Borough Council member and fielding media requests as we near the midterm elections on November 6.
Categories: Law , Nation and World