Thursday, February 15, 2018
Ryan McCloskey and his wife, Cheryl, with the St. Patrick statue at Seton Hall
Seton Hall University graduate student Ryan McCloskey is a recipient of this year's Irish 40 Under 40 Award presented by the Irish Echo. The Irish Echo is the oldest and largest circulation national Irish American newspaper. The Irish 40 Under 40 Award was created to spotlight 40 Irish and Irish Americans under the age of 40 who have distinguished themselves in their occupations.
Ray O'Hanlon, editor of Irish Echo, said, "Our Irish Echo 40 Under 40 award winners are already blazing trails in many fields. They are a credit to their families, their communities, Ireland, Irish America and the United States of America. These awards are not given on the basis of specific jobs, vocations or achievements. They cover all possible career bases and pursuits, prompted by nominators who recognize reasons why each award winner stands out at a time of life when a certain landmark age has yet to be reached."
McCloskey stated, "I'm very honored to receive this award. It actually inspired me to do even better than what I've been doing, and to really connect with my Irish roots more here in New Jersey and at Seton Hall. The Irish Echo is a major newspaper publication in the U.S. focusing on Irish American news and to receive an award from them is really an honor."
McCloskey is currently pursuing a graduate degree in History in the College of Arts & Sciences and his wife, Cheryl, is a Seton Hall 2012 alumna who currently works for the University as the Assistant Director of Housing and Operations in Housing and Residence Life.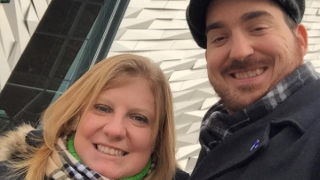 Ryan and Cheryl at the Titanic Museum in Belfast Northern Ireland
McCloskey started his own business, Computer Sharp, in 2010. It provides IT support to libraries, nonprofits and small businesses. His IT career path began when he received a technology position at his hometown library while pursuing his undergraduate degree at Rutgers University. After graduating, he continued to work full time at the library, building a reputation as a technology expert.
"Ryan believes in our communities and the impact a strong community library can have on its citizens," Cheryl stated in her nomination letter. "He also believes in leveraging technology to unite people and help them thrive. Ryan saw a need for affordable and reliable IT solutions for our community libraries and was ready to meet that need."
McCloskey explained that his career path was inspired by his Irish heritage because the inviting and welcoming Irish culture translated into his desire to help people who are troubled by technology. He volunteers with the Basking Ridge Business Alliance, a nonprofit organization that works to connect the community with local businesses. He provides assistance to the Lyons Veterans Association Hospital, helping with their website and other marketing and technology needs. McCloskey grew up with a learning disability and struggled in social environments. This motivated him to overcome the challenges he faced in life. He said, "I think for many people having medical issues or learning differences would keep them down, but for me it motivated me to prove not only to everyone else but especially to myself that I could overcome those challenges."
McCloskey received three undergraduate degrees, and he is now pursuing his first master's degree. He aspires to be a history professor and looks forward to emulating the enthusiasm that he received from his professors.
McCloskey is a dual citizen of the U.S. and Ireland, where his mother emigrated from in 1972 from Waterford. He spent his vacations and summers in Ireland, staying with family. As he got older he travelled more, which increased his passion for the Irish culture. He has since invited his wife and his Glen of Imaal Terrier, Lucky McLovin', to accompany him in his travels. They will be visiting Ireland again this summer, along with Cheryl's parents who will be experiencing Ireland for the first time.
"You go to Ireland for this cultural experience, for the people and the music. The whole town loves when we come to visit. It is cold and rainy, but the people are so warm you don't notice the weather," McCloskey stated.
The Irish 40 Under 40 Awards Ceremony will be held on February 23. The family plans to celebrate after the awards ceremony. Please show your support by voting in this year's People's Choice Award. The social media poll for voting will be open until February 23. To vote for Ryan McCloskey, click here. The community also celebrates two Seton Hall alumni who are among the recipients of this year's Irish 40 Under 40 Award: James Hanley J.D. '11, and Michael Faloon M.D. '11.
Categories: Arts and Culture