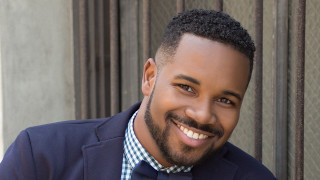 Dr. Allen Lipscomb spoke with New Jersey social work field instructors and others on May 6, 2021 in an educational forum hosted by Seton Hall University's undergraduate social work program and sponsored by the New Jersey Baccalaureate Social Work Education Association, (NJBSWEA). NJBSWEA is a membership organization comprised of the nine BSW programs in New Jersey. This training was free and provided professional continuing education to social workers.
Dr. Lipscomb's presentation was entitled, Antiracism and Intersectionality in Supervision, and provided participants with tools to support and empower students, promote social justice, and to embrace intersectionality in social work field placement settings. Special attention was paid to increasing understanding of the power, privilege, and implicit biases that exist in the social work profession including those that are inherent in practice settings across systems. Strategies to integrate intersectionality, anti-oppressive, and antiracist tenants in a variety of practice contexts and provided techniques were provided.
Dr. Lipscomb, PsyD, LCSW, is an Associate Professor in the Social Work Department at the California State University Northridge. Dr. Lipscomb is a clinical psychologist also a Licensed Clinical Social and Worker in the state of California. Dr. Lipscomb received his doctorate in Psychology (Psy.D.) with a clinical emphasis in marriage, family and child psychotherapy from Ryokan College and his Master of Social Work (MSW) from the University of Southern California. Upon completing his doctorate, he earned a certification in mixed-methods community based research from the University of Michigan in the School of Social Work. In addition, Dr. Lipscomb studied diversity and inclusion practices for human resources within organizations through Cornell University, earning a certification from the School of Industrial and Labor Relations at Cornell.
Dr. Lipscomb specializes in providing anti-oppressive and inclusive mental health services to individuals, children, youth, and families of color. His areas of research are centered on the psychiatric epidemiology among racialized and marginalized individuals who have experienced trauma (i.e., complex trauma, traumatic-grief, and race-based trauma). Specifically, Dr. Lipscomb has conducted numerous qualitative research studies on racialized Black identified men across the Black/African Diaspora exploring their grief, loss, and complex-trauma experiences. His pedagogy is centered on cultural anti-oppressive and clinically.
Categories: Arts and Culture , Education , Nation and World