Wednesday, March 14, 2018
Thursday, April 5 at 6:30 p.m. in Fahy Hall 236, Seton Hall University campus.
A Russian documentary filmmaker Alexander Markov will discuss his recent work in a presentation "Soviet Filmmakers in Africa, 1955-1991: Documentary Cinema in the Service of the State."
During the heyday of African studies in the Soviet Union in the 1960s, a number of Soviet filmmakers were dispatched to the continent to produce newsreels and documentary films whose mission was to record the "friendships" between the Soviet socialist specialists at the helm of scientific progress and the African socialist hopefuls who had just broken free from the yoke of colonialism. Those cinematic journeys generated a plethora of documentary footage, which several decades later remains a baffling, fascinating, and revealing historical document of this vanished era of great hope and ideological confusion.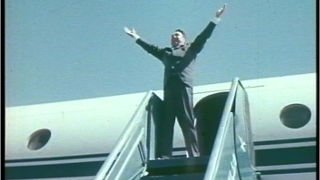 Alexander Markov is an acclaimed documentary filmmaker, cinema historian and artist from St. Petersburg, Russia. He has directed numerous documentary films and teaches documentary directing at St. Petersburg State Institute of Film and Television. He also works as an independent curator. His video installations were shown at Sharjah Biennial, Gallery Calvert 22, Iwalewahaus, africa.cont, CEU, etc. Markov's films were awarded prizes at various international film festivals, including Berlinale Talents 2015, DocPoint, Sheffield Doc, Film Africa, Message To Man, NYAFF, Artdocfest, Cinefest, Directors Lounge, Stalker, Temps De Images, and others. Among his films are: Museum of Dreams (5 min, 35 mm, 2000); Lullaby (20 min, 35 mm, 2002); Cities within Cities (26 min, BetaSP, 2003); Russian Costa Rica (52 min, HDV, 2008); Two Highways (26 min, BetaSP, 2008); Pastoral (26 min, HDV, 2008); Delusion (7 min, HDV, 2010); Children of the Sun (15 min, HD, 2011); Get Used to This Place (15 min, HD, 2011); German Portraits Russian Style (15 min, HD, 2012); Our Africa (45 min, HD, 2018).
Presently Markov holds an appointment as a Visiting Fulbright scholar at the Department of Russian and Slavic Studies, New York University.
This event is co-sponsored by the Russian and East European Studies Program, the Department of History and the Slavic Club. All program events are free and open to the public. Refreshments will be served.
Categories: Arts and Culture , Nation and World