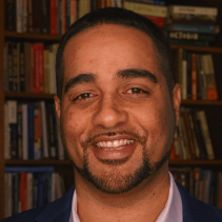 On Thursday, April 29, at 7 p.m., Seton Hall University and the South Orange/Maplewood Community Coalition on Race will co-host Conversations on Race, an annual community dialogue on race-related issues. This year's event, titled "Racial Justice in Education," is free and open to all.
The virtual event will include a presentation by Jesse Hagopian, an award-winning educator and leading voice on educational equity, the school-to-prison-pipeline, standardized testing, the Black Lives Matter at School movement, and social justice unionism. It will be followed by small group discussions among community members, and it will end with a Q&A session.
Register in advance for this meeting here!
After registering, you will receive a confirmation email containing information about joining the meeting.
Hagopian's education and social justice awards include the national "Secondary School Teacher of the Year" award and the "Courageous Leadership" award from the Academy of Education Arts and Sciences, the Abe Keller Foundation award for "Excellence and Innovation in Peace Education," and the Seattle/King County NAACP "Service to Community Award." He was named a "Cultural Freedom Fellow" by the Lannan Foundation for his nationally recognized work in promoting critical thinking and opposing high-stakes testing.
He has been published widely, and his commentaries have been featured in numerous national media outlets including The New York Times, The Wall Street Journal, NBC's "Education Nation," PBS News Hour with Gwen Ifill, CNN, Democracy Now!, Al Jazeera America, Keith Olbermann's Countdown, The Dan Rather Report, The Real News Network, The Laura Flanders Show, and C-Span's "Book TV."
As the South Orange-Maplewood School District prepares to launch an intentional, district-wide elementary school integration plan, Hagopian's insights for achieving long-lasting, racial equity in the schools are very timely.
For more information about the South Orange/Maplewood Community Coalition on Race, please click here to visit the website or call 973-761-6116.
To indicate your interest to be a small group discussion facilitator for this event, please contact Rev. Dr. Forrest Pritchett at Forrest.Pritchett@shu.edu by Monday, April 26. A brief orientation will be held on Thursday evening, April 29, at 6:15 p.m. to acquaint everyone with the facilitator protocols and the technical aspects of being a virtual room facilitator.
Categories: Arts and Culture , Education