Thursday, February 25, 2021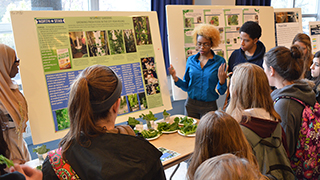 The 25th annual Matthew Petersheim Academic Exposition 2021: Share, Honor, Unite will take place virtually Monday through Friday, April 26-30, 2021, in celebration of the scholarly accomplishments and academic interests of the entire Seton Hall University community, including undergraduate and graduate students, faculty, administrators and staff.
The week-long digital gathering honors scholarship and innovation and includes keynote presentations and many events and student presentations delivered remotely, that the University community and the public will be able to access through Microsoft Teams. The Expo honors the innovative spirit of Matthew Petersheim, Ph.D., associate professor of chemistry, who passed away in 1998.
"Witnessing the emergence of the 25th anniversary of the Petersheim Academic Expo is so amazing and gratifying because of all this started as a conversation between Matt and myself on cultures and cultural conflict within a university community," reminisced Rev. Forrest M. Pritchett, Petersheim Committee Member, Senior Adviser to Provost for Diversity, Equity, and Inclusion and Program Director of the Dr. Martin Luther King, Jr. Leadership Program and Gospel Choir.
"We discussed how the different cultures emerge and receive attention. Our discussions touched on everything at a university from the culture of athletic tradition, student development to ethnic cultural homogeneity and cultural heterogeneity. Athletic culture receives "mega" attention, but the culture of celebrating student academic achievement receives little public accolade. He asked the question, 'What can we do about that?' The journey of collaboration began with that comment…." shared Pritchett, who will be delivering a tribute to Petersheim during the opening ceremonies.
The Virtual Opening Ceremony, from 12 noon to 2 p.m., on Monday, April 26, includes a keynote address by Dr. Joseph E. Nyre, President. Throughout the week participants will present their work in research symposia, poster sessions, presentations, panel discussions, theatrical performances, art exhibits, debates, concerts and more.
Provost Katia Passerini is the featured keynote speaker for the Virtual Closing Ceremony of Celebration at 3 p.m. on Friday, April 30, which will honor all presenters. A select number of student presentations will be recognized and those chosen will receive Student Travel Award Reimbursements to help enable them to attend conferences and symposia, where they can gain important presentation experience and network with other scholars.
"The Petersheim Academic Expo illustrates the University's commitment to student and faculty achievement and success as a home for scholars from every field to be able to engage in conversation within and between their disciplines. In this special year, we will look back at our first 25 years of academic excellence and to the future to contemplate where our achievement and scholarship will take us in the next 25 years," said Professor Sulie Lin Chang, Petersheim co-chair, Institute of Neuroimmune Pharmacology Director and Professor of Biological Sciences.
The deadline for Petersheim Academic Exposition abstract submissions is Friday, March 26, 2021. All presentations will be in an online format. Click here to submit your application.
"We are grateful that our Steering Committee has again adapted through Seton Hall's command of technology to transition the 2021 Academic Exposition to an online platform using Microsoft Teams. This year's Petersheim Academic Expo is a digital gathering of great minds, brought together by Seton Hall via the spirit of what Great Minds can do," said Professor Jose Lopez, Department of Physics, and event co-chair. To learn more about the program and activities, please visit the Petersheim Academic Exposition website.
Categories: Arts and Culture , Education , Science and Technology