Wednesday, March 20, 2019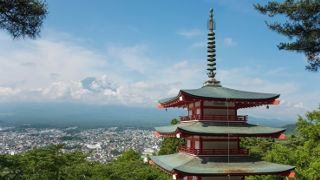 The Department of Languages, Literatures and Cultures invites students, faculty, staff and alumni to its 22nd annual Japan Week. Events will take place from Monday, April 1 to Friday, April 5. 
Japan Week gives students and the community the opportunity to celebrate and gain a better understanding of Japanese culture. It demonstrates the University's ongoing commitment to building bridges between cultures and bringing together people of different customs, religions and ethnic backgrounds. 
"Japan Week 2019 seeks to continue to promote diversity and unity," said Shigeru Osuka, professor of Asian Studies and director of Japan Week. "We hope that participants will become leaders in a flourishing dialogue between Japan and the United States and will work toward building a more peaceful, global community." 
The events have been planned in celebration of Japanese culture, cuisine, games, songs, business and language and coincide with the emergence of the Japanese cherry blossoms. 
This year's Japan Week schedule includes: 
Monday, April 1 
3:30 p.m. to 4:30 p.m. - Japan Week will start with a traditional card game of Karuta, which has been popular with the Japanese since the 16th century. Attendees are invited to compete with each other following a short presentation on the history of the game. Small prizes and refreshments will be provided. Walsh Library, Beck Rooms. 
Tuesday, April 2 
11 a.m. to 12:15 p.m. - Yusuke Osuga from the Shoko Chukin Bank in Tokyo will present "The Japanese Small Business and Successor Problem." Osuga was in charge of screening and financing small and medium enterprises in the Tokyo and Shizuoka prefectures before transferring to human resources in 2016. Walsh Library, Beck Rooms. 
5 p.m. to 6 p.m. - Bryan Meadows, Ph.D., from the Department of Educational Studies, the University's Japan Exchange Program and the Office of International Programs will host an information session on two upcoming study abroad opportunities in Japan. These short-term programs allow students to experience many aspects of Japanese society including K-12 schooling, university classrooms, life in Japan and locations of cultural and historical significance. Jubilee Hall, Room 109. 
Wednesday, April 3 
12:15 p.m. to 12:45 p.m. - The Japanese Program will honor its motivated language learners and the creative efforts of the students who produced Digital Storytelling videos. Awards will be presented by Peter Shoemaker, dean of the College of Arts and Sciences. The award-winning Digital Storytelling videos will be shown during the Multicultural Day celebration on Thursday, April 24. Walsh Library, Beck Rooms. 
2 p.m. to 3:10 p.m. - Professor Anne Giblin Gedacht will give a presentation on the Netflix series, "Tidying Up with Marie Kondo." She will argue how Marie Kondo's show is just the latest addition to a long legacy of works that casts Japan as the site of "Eastern Spiritualism" that survives in the face of modern capitalism. Walsh Library, Beck Rooms. 
5 p.m. to 7 p.m. - The Asian Cultural Association at Seton Hall will host a karaoke night, one of the most popular pastimes in Japan after a long day at work or at school. Attendees will be able to get together, sing songs of their choice and enjoy refreshments. Walsh Library, Beck Rooms. 
Thursday, April 4 
11 a.m. to 12:15 p.m. - There will be a free taste test of the different types of miso soup. Learn about the foundation of Washoku, which is traditional Japanese food. Hear about the conceptual differences of miso soup in Japanese and American cultures and Umami, which is considered the fifth taste. Caroline D. Schwartz College of Nursing Building, Room 110. 
Friday, April 5 
9:30 a.m. to 3:30 p.m. - Eight graduate students will present their academic research papers at the 22nd Annual Graduate Student and Scholar-Teacher Symposium on Japanese Studies. Jubilee Hall, Room 141. 
All events are open to the SHU community and are free of charge. For more information, visit the Japan Week landing page or contact Shigeru Osuka at shigeru.osuka@shu.edu. 
Sponsorship for Japan Week 2019 is provided by Seton Hall University's Department of Languages, Literatures and Cultures, College of Arts and Sciences Dean's Office, Office of International Programs, LLC Global Learning Center, Asian Cultural Association, Japanese Program, The J.C.C. Fund of the Japanese Chamber of Commerce and Industry of New York, Consulate General of Japan in New York, and Japan National Tourism Organization New York Office.
Categories: Arts and Culture