Thursday, October 5, 2017
Sensor with Laser Light Detects Low Levels of Antibiotics
Sensors have many applications, including the detection of antibiotics in waste water. A joint team of scientists from Seton Hall University in the United States and University of Antwerp in Belgium has developed a high-tech sensor that is robust and highly sensitive, yet easy to use in the field. 
The problem of 'anti-microbial resistance' is a continuous concern due to the presence of antibiotics in waste water generated, for example, by agricultural work or hospital waste materials.  The detection of trace amounts of antibiotics remains a challenge with numerous industries calling for new and easier ways to use sensors. 
An international scientific partnership led by Professor Karolien De Wael of the University of Antwerp, Belgium, and Professor Sergiu M. Gorun of Seton Hall University just uncovered an elegant solution: the combination of light from a laser pointer and an engineered sensor strip measuring approximately one inch. This sensor detects nano-level concentrations of selected antibiotics. 
"The key to this success is a bioinspired, heavily fluorinated enzyme model that replaces the enzyme and uses air, not non-renewable hydrogen peroxide like the enzyme, in addition to light to produce reactive oxygen species that enable the detection," explained Professor Gorun, director of Seton Hall's Center for Functional Materials and professor in the Department of Chemistry and Biochemistry.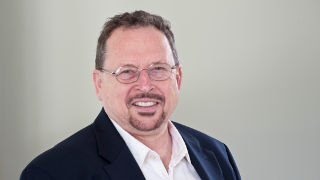 Gorun's group developed a range of fluorinated materials with numerous applications in catalysis and environmental water treatment. The catalysts, due to their fluorine content, are very robust and long lasting, thus offering advantages in constructing durable devices including the high-tech sensor onto which they are deposited. Combining Seton Hall's bioinspired, catalytic materials with UAntwerp's electrochemical sensors resulted in the breakthrough to selectively detect lower levels of antibiotics than ever before. This technology now makes possible, for the first time, an easier and simplified method of detection of contaminants. 
Additional applications are envisioned, for example to screen molecules present in low level concentrations such as biomarkers of many diseases.
The work in the United States has been supported by the National Science Foundation.
To learn more about the research published in the journal Nature Communications, click here.
Categories: Health and Medicine