Sunday, September 9, 2018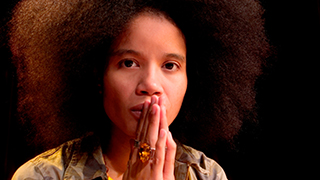 The Africana Studies program hosts author, spoken-word poet, performing artist, and activist Staceyann Chin on September 26 at 6:30 p.m. in the Chancellor's Suite.
A spoken-word poet, performing artist and political activist, Staceyann Chin's work has been published in The New York Times, The Washington Post, and the Pittsburgh Daily. She has been featured on "The Oprah Winfrey Show," "60 minutes," CNN, PBS, and "Showtime at the Apollo." In addition to co-writing and performing in the "Russell Simmons Def Poetry Jam," Chin has appeared in Off-Broadway one-woman shows and at the Nuyorican Poetry Café. Her one-woman show, Borders/Clash received glowing reviews for its humor and insight. She has been featured by public access TV programs in Brooklyn and Manhattan, as well as many local radio stations, including WHCR and WBAI. She has been featured at the Joseph Pap Public Theatre several times and has toured internationally with performances in London, Denmark, Germany, South Africa and New York's own Central Park Summer Stage.
Chin was the winner of the 1999 Chicago People of Color Slam; first runner-up in the 1999 Outright Poetry Slam, and winner of the 1998 Lambda Poetry Slam, the 1998 and 2000 Slam This, and WORD: The First Slam for Television. Chin was a finalist in the 1999 Nuyorican Grand Slam; she won the American Amazon Slam title in Aarhus, Denmark, in 2000. Chin's poetry is featured in her first chapbook, Wildcat Woman and numerous anthologies, including Skyscrapers, Taxis and Tampons, Poetry Slam, Role Call and Cultural Studies: Critical Methodologies. Chin has also CD compilations with Bar 13 NYC-Union Square and Pow Wow Productions. In 2009, Chin performed in the documentary film, The People Speak, that uses dramatic and musical performances of the letters, diaries, and speeches of everyday Americans based on historian, Howard Zinn's A People's History of the United States.
Chin's autobiographical novel, The Other Side of Paradise: A Memoir was published in 2009 to widespread acclaim and praise from critics. The novel is a captivating and inspiring account of how a young girl born into denial and contempt defeat the odds growing up resilient, determined and full of purpose. A long-time resident of Crown Heights, Brooklyn, Chin resides there with her daughter, Zuri. The lecture is free and open to the public. All are welcome.
Categories: Arts and Culture