Author Angela Ajayi, and Maxim Matusevich, Ph.D., professor and director of the Russian and East European Studies program will offer a literary reading followed by on Q&A on their work on Thursday, April 21 from 6:30 – 8 p.m. in Fahy Hall, Room 236 and virtually via Microsoft Teams.
 
This event is co-sponsored by the Russian and East European Studies Program and the Slavic Club. Please click here to join the event.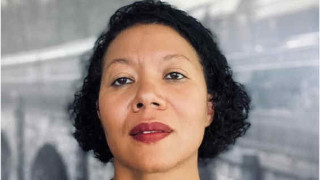 Angela Ajayi, M.A., was born in Jos, Nigeria, to a Ukrainian mother and Nigerian father. She spent her childhood shuttling between Nigeria and Soviet Ukraine. Angela's first story, "Galina," published in Fifth Wednesday Journal, won the 2017 PEN/Robert J. Dau Short Story Prize for Emerging Writers. Her essays, book reviews and author interviews have appeared in The Common Online, Wild River Review and the Minneapolis Star Tribune where she is a contributing book critic. A former book editor, she also teaches writing classes at the Literary Loft Center. She holds a B.A. in English literature from Calvin University and an M.A. in comparative literature from Columbia University. In her fiction, she often seeks to explore the intersection of race, gender and class in cross-cultural spaces. She has a short story, "Our Beautiful Ukrainian Mothers," in the fall 2021 issue of Pleiades and is writing her first book.
 

Originally from St. Petersburg, Russia, Maxim Matusevich, Ph.D. moved to the United States on the eve of Soviet collapse. A well-published scholar of Africa and the Cold War, he also writes fiction. His short stories, essays, and a couple of novellas appeared in the Kenyon Review, New England Review, The Bare Life Review, Transitions, San Antonio Review, MumberMag, Anti-Heroin-Chic, BigCityLit, The Wild Word, Foreign Literary, ReLevant, East-West Literary Forum, Rivanna Review, WordCity Literary Journal, and a number of other publications.
Categories: Arts and Culture