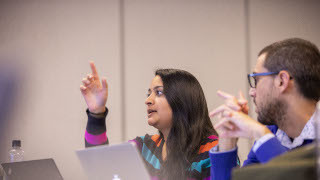 Seton Hall University's Center for Community Research and Engagement and the College of Arts & Sciences will be hosting the 4th annual Civic Engagement Summer Workshop as a virtual event from Monday, August 23rd – Wednesday, August 25th from 10 a.m. - 1:15 p.m. each day.
This 3-day workshop experience will provide an opportunity for students to strengthen their own leadership potential to become catalysts in their communities for positive social change. Focusing on the experiences of leaders in the public and nonprofit sectors, this program is designed to equip all participating students with the skills necessary to be leaders and advocates in any environment in their professional and community lives. As part of this experience, students will interact with faculty, government officials, nonprofit leaders, and elected officials who will share some of their own life experiences and insights to provide students with diverse perspectives as they embark on trying to effect change in their own communities.
Interested students, especially from the College of Arts and Sciences, should complete the brief application form found HERE by Wednesday, August 18th. 
Categories: Arts and Culture