Thursday, October 31, 2019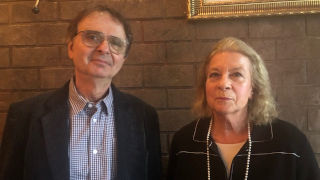 Professor Jeffrey Levy and his wife Fran
Graduate students pursuing a Master of Science (M.S.) Experimental Psychology are investigating significant individual and societal problems as part of the new Levy Fellowship program.  
Established by former chair and associate professor in the Department of Psychology, Jeffrey Levy and his wife Fran, the program has just finished its first year and is at the outset of its second. Professor Levy has taught at the University for 48 years; trained as an experimental psychologist, he specializes in adaptive learning and behavior modification.
The Levy Fellowships are intended to provide students of exceptional promise with a full scholarship to pursue a master's degree while exploring topics in experimental psychology.
"Over the last four plus decades the Department of Psychology at Seton Hall has grown exponentially and over that time the field of psychology itself has profited from the work of our graduates and faculty," said Levy. "With this fellowship, we hope to continue and further that tradition of impact and welcome the next generation of Seton Hall psychologists."
First-year graduate students Amanda Pra Sisto and Mihail Santana were the first scholars to be named Levy Fellows.
Pra Sisto is studying within the Behavioral Neuroscience concentration in the program. Her research focuses on the effects of socialization and environmental enrichment on substance abuse and addiction.
Pra Sisto is conducting a series of experiments where she alters the living conditions of laboratory rats, which will include adding objects or toys to their boxes to stimulate them. In addition, she plans to introduce a sipper with alcohol concurrently with food pellets to induce the rats to "assign value" to the sipper. Her experiment is designed to determine whether or not increased stress correlates with the rats self-administering alcohol once their ideal environments get disrupted. Pra Sisto hopes her research will provide further insight into the types of factors that may influence excessive drinking.
According to the CDC, "Excessive alcohol use led to approximately 88,000 deaths and 2.5 million years of potential life lost each year in the United States from 2006 – 2010, shortening the lives of those who died by an average of 30 years. Further, excessive drinking was responsible for 1 in 10 deaths among working-age adults aged 20-64 years. The economic costs of excessive alcohol consumption in 2010 were estimated at $249 billion, or $2.05 a drink."
Mihail Santana is studying within the Behavioral Sciences concentration. His research deals with short-term effects on memory.
Santana's study is intended to show how saccadic eye movement, an eye pattern often associated with reading, affects facial recognition. His experiment involves initiating the rapid back and forth, stop-and-go motion of saccadic eye movement and measuring its usefulness in recovering memories of "emotionally-valenced," faces such as ones that are happy or threatening. Santana hopes his research will help form an empirical basis to better assess eyewitness testimony, which is deemed to be one of the most unreliable forms of evidence in court and in police reporting.
According to the Innocence Project, "mistaken identifications are the leading factor in wrongful convictions, contributing to approximately 71% of the more than 360 wrongful convictions in the United States overturned by post-conviction DNA evidence."
"The work of these Fellows can result in important contributions to the scientific community and may help form the basis of therapeutic and policy changes that can impact the lives of people everywhere," said Levy. "It is truly an example of what great minds can do at Seton Hall, and my wife and I are honored to have played a role in developing this fellowship."
To contribute to the Levy Fellowship, visit Support the Jeff and Fran Levy Fellowship Fund.
Categories: Research , Science and Technology