We are excited to share our participation in National Nurses Week, a week dedicated to recognizing and thanking our nursing community. This year, Nurses Week will take place from Wednesday, May 6 through Tuesday, May 12 ending on Florence Nightingale's Birthday, the founder of modern nursing. Nurses Week was created to honor our nurses and now more than ever, we want to show our support for our fellow Setonians working on the frontlines of this pandemic. Please help us as we join together throughout this week and share the stories of our amazing nursing alumni.
Schedule of Events
Participate in a different activity each day as we celebrate and honor the nurses who do so much to help and care for our community.
May 6: Nurses Week Begins!
Get ready for weeks' worth of activities - decorate your home with a heart for healthcare workers, hang up your Pirate bandanna or flag, and prepare to make noise for our nurses!
May 7: Throwback Thursday
Nursing Alumni: Share your photos with us as you reminisce about your nursing days at Seton Hall or in the healthcare facilities. We will share it on our social media!
All alumni: Share photos of your nursing friends, family, etc.
May 8: Feel Good Friday
Check out our social media channels (@SetonHallAlumni) for fun facts, quizzes, and a special way for you to pay it forward to those nurses in your life.
May 9: Heroes
Nominate a nursing hero using #SetonHallStrong or share your story with us from the frontlines. Join us for a webinar to help with stress and support your mental health during this time of uncertainty.
May 10: Give Back
Learn how to make masks for our healthcare workers or for your personal protection. Plus, donate to support our students via the Student Emergency Fund.
May 11: Go Blue
We want the entire alumni community to show their support from their homes by wearing blue. Plus, hang your pirate pride bandannas/flags outside, or tie a blue ribbon on your tree to show a united Seton Hall community. Whatever you do, share with us using #SetonHallStrong so we can show our nurses that we stand with them.
May 12: Gratitude
Use the hearts for healthcare workers design to print, trace, and fill out your message of gratitude. Make sure to hang on the windows of your home to show your support.
Nurses Week Toolkit
  Thank You Cards
Download these Seton Hall Nurses Week thank you cards to email to send to your favorite Pirate nurse or post them to your social media feeds!
Additional cards:
  Heart Cutouts
Download this heart cutout, write or type your thank you message, pose with it and hang on your window to display your appreciation for our nurses! Don't forget share your photos on social media and tag @setonhallalumni.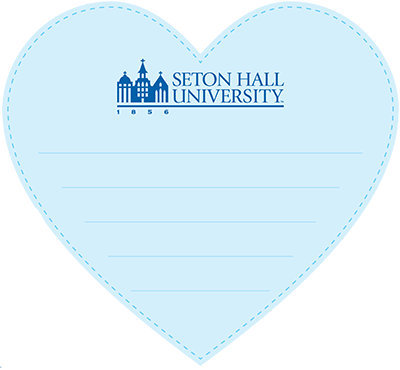 Facebook Photo Frame
Change your photo on Facebook for the week as a way to say thank you to Seton Hall nurses! Search using "Seton Hall" to locate the frame in the gallery.
Seton Hall Nurses in Action