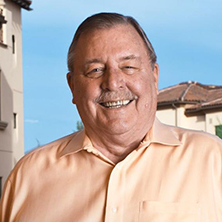 Peter N. Larson '74 JD
Seton Hall Law alumni Peter Larson and Maury Cartine have been supporting their alma mater over three decades with contributions that have reached multiple millions. And they continue to give, most recently endowing a strategic initiatives fund to facilitate investment in new Law School ventures. Ongoing philanthropy to Seton Hall Law is their way of saying thank you for the unrivaled education they received, and a testament to the school's reputation for loyalty.
Law school was not the first stop for either Larson or Cartine, but they both testify that it was an impactful experience in terms of career success. Larson earned his J.D. from Seton Hall in 1974, after having earned a B.S. from Oregon State University in 1960, then serving as a naval officer for seven years, principally on nuclear submarines. Cartine graduated from the Stillman School of Business in 1970 with a B.S. in Accounting and earned his J.D. in 1976. While in school, he also served in the New Jersey Army National Guard. Both are members of the New Jersey bar.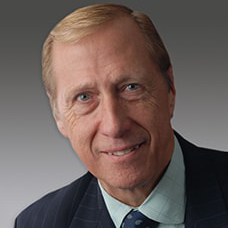 Maury Cartine, '70 BSB/'76 JD
Both Larson and Cartine were founding members of the Law School's Board of Visitors, established in 2004. When Larson was Chair from 2011 to 2013, the Board launched the Law School's first major strategic planning initiative, charting a course for strategic differentiation both regionally and nationally, the reimagining of experiential learning, and investment in faculty equally outstanding in teaching and research. In recognition of their career success as well as their commitment to the School, Seton Hall University and the Law School presented both Larson and Cartine with the esteemed Many Are One Alumni Service Award.
"Alumni like Peter and Maury demonstrate their unwavering commitment to their alma mater's academic distinction, growth and morale," said Seton Hall University President Joseph E. Nyre, Ph.D. "Their philanthropic support and continued engagement on the strategic level have helped the Law School flourish. We are grateful to these two icons and proud of the many accomplishments in their lives and careers which were fueled by their Seton Hall Law education."
Larson and Cartine recently agreed to lend their names and philanthropy to a new joint venture: the Larson-Cartine Endowed Dean's Innovation Fund. The Fund will provide seed money to support market research or start-up support in three areas: new initiatives designed to advance emerging or overlooked fields of study, opportunities for students to collaborate with working professionals, and new programs of study dealing with emerging or intractable issues of law or public policy in an ideologically and philosophically balanced manner.
"I'm very grateful to Peter and Maury for establishing this visionary Fund," said Kathleen M. Boozang, Dean of Seton Hall Law. "Peter and Maury continue to be strategic partners to Seton Hall Law who support their aspirations for the School with their philanthropy. Seton Hall Law is a different place because of them. I hope they are proud of their legacy."
From 1995 to 2000, Larson served as chairman and CEO of Brunswick Corporation, a Fortune 500 company famous for the manufacture of recreational and outdoor items from boats and pool tables to tents and sleds. Before joining Brunswick, Larson was worldwide chairman of Johnson & Johnson's Consumer and Personal Care Group and a member of the Johnson & Johnson Board of Directors. From 1978 to 1991, he was an executive at Kimberly-Clark, where he was president of the North American consumer business and later became president of the Health, Infant, and Adult Care sectors and a member of the board of directors. He was also a board member of CIGNA and the New York Stock Exchange.
Larson reflects: "My time at Seton Hall Law School greatly sharpened my critical thinking skills which had a major impact on my career success."
Cartine had humble beginnings, growing up as one of four boys in a working-class family. After graduating with a B.S. in accounting, Cartine started his career at the Internal Revenue Service while attending Seton Hall Law. As a law student he worked at the school's free legal clinic for people struggling with alcohol and drug addiction. Upon graduation, Cartine launched his career as a tax expert in accounting firms and is now managing director at Prospect Capital.
Cartine also served on the Stillman School of Business Leadership Development Advisory Council, the President's Advisory Council, the Stillman Accounting Advisory Board, and the Stillman Leadership Development Mentoring Program. He has provided significant support to the Law School and Stillman over the years, funding critical priorities such as the Maury Cartine Faculty Research Endowment Fund, the Fund for Seton Hall, the Patrick E. Hobbs Endowed Scholarship and the Maury Cartine Endowed Scholarship, which is distributed to accounting students, preferably graduates of Cartine's own high school, Columbia High School in Maplewood, NJ. Cartine currently lives in Montville, NJ, and Boca Raton, FL, with his wife, Robin Cartine. Their daughter, Melissa, followed in her father's footsteps, graduating from Seton Hall Law in 2013.
"I remember my father taking me to a bookstore to buy a book for my classes," recalled Cartine. "It was $70, which was a lot of money back then. I knew it was difficult for him, but he was proud and glad to spend the money on my studies. Like my father, I am proud and glad to help make a spectacular education more affordable to aspiring legal and business professionals."
For more information on supporting Seton Hall Law and the Dean's priorities, contact Keith Cook, Assistant Dean of Alumni & Development, Seton Hall Law, keith.cook@shu.edu, (973) 642-8589.