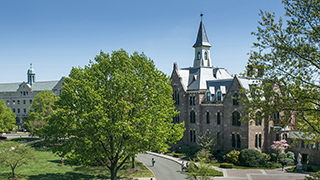 Seton Hall's fifth annual Giving Day, on April 27-28, was a tremendous success. Hosted by the Department of Alumni Engagement and Philanthropy, with collaborative effort from Seton Hall Law and Pirate Blue Athletics, the initiative once again broke records and made history, exceeding its goal of 1,856 donors, in honor of the founding year, and raising over $897,000 from over 2,000 passionate Pirates.
"The loyalty that has been shown by our strong network of alumni, parents, students, faculty, staff, friends, and clergy is remarkable," says Anthony Bellucci, MBA '18, Associate Vice President of Alumni Engagement and Philanthropy. "We couldn't have done this without them. Their passion, dedication, and willingness to go above and beyond boldly demonstrates the heart of our community. This year truly expressed our goal of joining 'Hall Together.'"
The excitement of the day was seen and felt across the campus and from many campus partners and online advocates. Pirates near and far displayed overwhelming support while showing their love for Seton Hall. Additionally, nearly 30 matches and challenges were created throughout the effort, which helped to inspire their peers and friends to participate. Donors such as John Colantoni '13, Paul Tyahla '03, Shaheen Holloway '00, several deans, and many other generous alumni and supporters amplified the philanthropic efforts of the community, helping to make an even greater impact.
The generosity of Setonians everywhere will shape the future of Seton Hall, providing current and future students with the resources they need to thrive, and helping to advance forward-thinking research, create opportunities through scholarships, and increase engagement by ensuring a student experience like none other.   
The impact made on Giving Day exemplifies the strength and resilience of the Seton Hall community. With an eye to the future, its impression will undoubtedly stretch to all corners of the University, helping to take Seton Hall to new heights. Although the campaign has ended, alumni, friends, and supporters who want to make a gift can visit the Giving Day page or contact alumni@shu.edu or (973) 378-9822.
Categories: Alumni