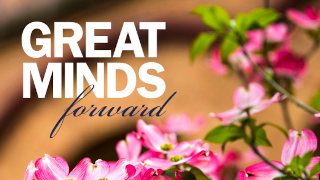 Seton Hall's Great Minds Forward campaign is back. Spanning the month of June, the initiative invites alumni, faculty, staff, parents, friends, and the priest community to come together to support students and help strengthen the University for the future. In preparation for the upcoming 2021 – 2022 academic year, and a safe return in the fall, the campaign will focus on raising money to support the Seton Hall Fund to ensure the University can meet evolving needs on campus.
The Great Minds Forward campaign was launched in 2020, building upon the success of Seton Hall's first Day of Caring, and served as a direct investment in the lives of students to ensure that they received the resources needed to continue thriving and have the best Seton Hall experience possible. Setonians near and far stepped up to care for its young Pirates who were experiencing significant hardship.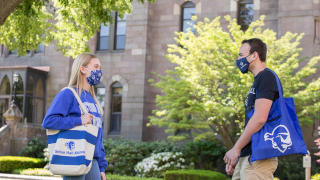 This year, the Seton Hall Fund will be the main designation area for the campaign, allowing the University to uphold its mission, provide financial aid through scholarships, create more internship endeavors, and assist in upgrading technology. Donors are also encouraged to support the campus cause that means the most to them. Gifts of all amounts will help the University respond to the rapidly changing educational environment and empower students to succeed.
Seton Hall's young alumni will be encouraged to join in on campaign efforts through the Young Alumni Challenge. The challenge asks young alumni to make a recurring gift of $3 or more to any area of campus that means the most to them. Small recurring gifts to the University make a significant impact over time in the lives of students and ensures sustained monthly support that serves as vital institutional support.
Great Minds Forward aims to position the University for success and aids Seton Hall in preparing and pushing toward a brighter future for generations of Pirates. Support at any level will make a tremendous difference in the lives of students.
As a special thank you, donors will have the chance to receive one or two exclusive Seton Hall items to show their Pirate pride. With either a reusable shopping bag, or a Seton Hall branded canvas tote, donors will be able to carry Seton Hall with them wherever they go!
The Seton Hall community can get involved in other ways by becoming an advocate for the campaign and helping to spread awareness. To make a gift by June 30, learn more about the campaign, or become an advocate, visit the website.
Categories: Alumni , Arts and Culture , Campus Life