Thursday, October 21, 2021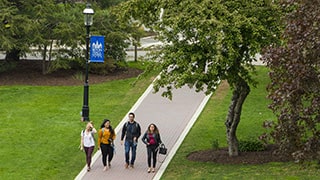 Don't be surprised if you get a phone call – or text – soon from a proud Seton Hall Digital Engagement Ambassador! These hard-working students make more than 13,000 calls annually to alumni, parents, and friends, seeking vitally needed support for Seton Hall University.
Annual gifts to The Seton Hall Fund have a direct and meaningful impact on the lives of our students by providing much needed support for scholarships, capital projects, bringing renowned scholars to campus and engaging the surrounding community through student volunteer work.
Thanks to gifts from Pirates everywhere, the Seton Hall Fund enables the University to undertake promising initiatives, strengthen its spiritual identity and provide ever greater opportunities for students and faculty to excel.
This year, Feven Kebede, a graduate assistant in the Office of Alumni Engagement and Philanthropy, is working closely with the students. Kebede is a first-year MA candidate at the School of Diplomacy and International Relations with a specialization in Global Health & Human Security and International Organizations.
"As a recent graduate and current graduate student at Seton Hall, I am honored to have this position of facilitating phonathon for the Alumni Engagement and Philanthropy department. I am very grateful for our hard-working callers and generous donors that make an impact to the Seton Hall Community and beyond"
Samantha '24, a political science major, enjoys being part of the program and connecting with alumni. "The best part of being able to speak with alumni is having the chance to learn about all the great opportunities which set them up for success," notes Samantha, a returning caller.
The work that these students perform not only benefits the University, but also lets them learn from alumni about what Seton Hall was like during their time as students and gives them a glimpse into life after graduation. Through daily communications with alumni, students learn what their futures might hold, while also letting graduates know what's currently happening at their alma mater.
"As a student here at Seton Hall, I am very grateful for the support I have received from our alumni. Their time and conversations truly help grow me as an individual and as part of the Seton Hall Community," says Hardeep '23, a veteran caller studying biology.
All gifts, large and small, make a difference. You can designate your gift to support the University's greatest needs, or to an area that is most meaningful to you – your school/college, department, program, sport, or organization. Another great option is to support the Student Emergency Fund, designed to provide financial relief to students enduring unprecedented hardships with costs related to food, transportation, housing, and more. This fund helps support all of our students – undergraduate, graduate, student-athletes, seminarians, and law students.
Our hard-working students rely on your dedication to fulfill their dreams. Please accept our sincere thanks for your ongoing support and for answering the call when a Pirate reaches out! By giving today, you can make an immediate and positive difference to Seton Hall students. If you prefer to make your gift online, please visit shu.edu/giving.
For questions or more information, contact Hayley Trinkoff '14/M.A. '15/M.B.A. '19, Director of Philanthropic Engagement, at hayley.trinkoff@shu.edu or (973) 378-9874.
Categories: Alumni