The Pirates will be marching up 5th Avenue at this year's St. Patrick's Day Parade on March 17.
Please note this event has been canceled.
Seton Hall Pirates will be marching alongside bands, bagpipers, and spirited revelers from near and far at the St. Patrick's Day Parade in New York City. Recognized as one of the oldest and largest parades in the world, the St. Patrick's Day parade draws about 250,000 marchers and 2 million spectators each year. Seton Hall students, parents, alumni, staff, family and friends are invited to put on their Kelly green and march together on Tuesday, March 17. Registration is required.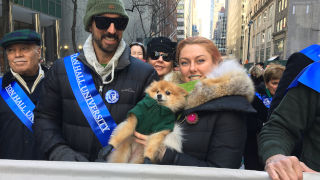 Feeling Irish? Join Seton Hall in NYC on St. Patrick's Day.
"There is nothing quite like the St. Patrick's Day Parade and the feeling you get marching up Fifth Avenue," says Cheryl McCloskey, one of the alumni ambassadors for the Pirates of Irish Persuasion & Extraction (PIPE) Alumni Club, which is sponsoring the event for Seton Hall. "It's always a fun day and a great way to show your Pirate and Irish pride! We're looking forward to seeing our PIPE alumni and friends on the 17th."
PIPE alumni were part of the student organization at Seton Hall and/or share an affinity for Irish culture. The group's members are bonded by their shared enthusiasm for exploring Irish heritage at Seton Hall. Events hosted by the club included dinners, Masses, Irish cultural workshops and presentations, and trips to sites and events of Irish-American interest.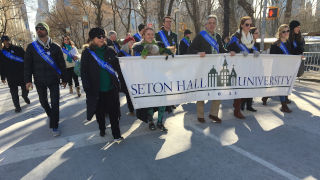 Bagpipers, bands, Irish dancers, and yes, Pirates, will be marching up 5th Avenue this year.
Parade Logistics
The day starts at noon at John Sullivan's Public House, 210 West 35th Street, where marchers will receive their parade sashes. Seton Hall's official 'stepping off time' is 1:15 p.m. at the designated parade gathering spot on West 46th Street between 5th and 6th Avenue.
Tickets for the Seton Hall St. Patrick's Day Parade celebration are $10. Participants are encouraged to meet at John Sullivan's Public House to receive a parade sash and a drink ticket. Pre-registration is required in order to participate in this event. Click here to register for the St. Patrick's Day parade »
Categories: Alumni