Hurt Family being honored at Seton Hall basketball game vs. Xavier.
In honor of Black History Month, the legacy of a trailblazer in diversity and inclusion at Seton Hall University was honored at the Men's basketball game as the Pirates played the Xavier Musketeers. Robert Hurt '56, better known as "Bobby" Hurt, was Seton Hall's first African American men's basketball student-athlete, joining the Men's basketball team in 1949. The Orange, NJ native was regarded as the state's best player coming out of high school, leading Orange High School to County and State championships in 1948. Bobby was extremely popular with teammates and fans because of his crafty style of play and for his skills as a left-handed shooter and rebounder.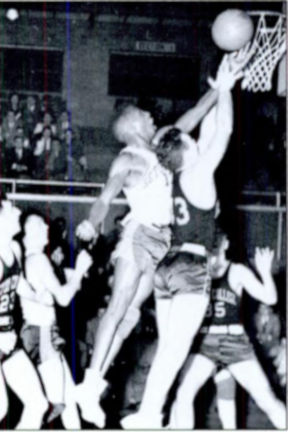 Bobby Hurt making a left-handed layup vs. Boston College.
As a senior in 1950-51, he helped usher in a golden age of Pirates basketball during John "Honey" Russell's tenure as Head Coach during a 24-win season playing alongside sophomores Richie Regan and Walter Dukes. This team eventually lost to Brigham Young University in the semifinals and to St. John's in the 3rd place game but the foundation that Bobby built established Seton Hall as a basketball power. Richie Regan and Walter Dukes went on to win the 1953 National Invitation Tournament Championship, which at the time was the premier college basketball tournament at the time, avenging their 1951 elimination by prevailing over St. John's in the championship game.
While at Seton Hall, Bobby was called to serve in the United States Army in the Korean War, where he earned a Purple Heart for his valorous efforts. After his service, he returned to Seton Hall and graduated in 1956.
Beyond basketball, Bobby was also a pillar of the community, committing his life energies to the development of young people and has been credited as someone who has provided guidance and friendship to many. His son, the late Bobby Hurt, Jr., was a basketball legend in his own right. "Bobby Smooth" as he was called, followed in his father's footsteps as a molder of young men and women both on and off the court in his decades as a high school and youth basketball coach in Montclair, NJ.
Bobby, Sr. passed away in 1995 leaving his legacy to his two daughters Patricia and Robin Hurt, his late son Bobby Hurt, Jr. and his niece Andrea Patricia Hurt. While physically there are only the sepia-toned images and box scores printed on yellowing paper long-ago of Bobby from his time on the basketball court, the legacy and example that he left behind for future Pirates of color stands tall.