Wednesday, August 30, 2017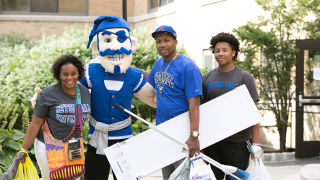 On Wednesday, August 23, Seton Hall Alumni Relations, in partnership with Admissions and Housing and Residence Life, welcomed more than 80 legacy families who moved their freshmen students into their residence halls a day early. Offered for the second year in a row, Legacy Move-In Day provided students of alumni families a unique first night home at The Hall before their peers moved in the following day.
Whether a cousin, sibling, aunt, grandparent, or parent, the alumnus or alumni, who chose Seton Hall before these freshmen, qualify their family as legacy. More than 200 families were invited to take part in this exclusive opportunity. Legacy Move-In Day, now becoming a tradition for incoming freshmen families, is a welcomed surprise for alumni and students.
As part of the day, legacy families were welcomed by University Advancement staff and Student Alumni Association members who volunteered to assist them in moving in. Erika Klinger, director of campus partnerships at the University, who began this program remarked on the importance of it saying, "These individuals are continuing the tradition of Seton Hall in their families and we couldn't be more proud. It is important to recognize these families and providing a day for early move-in and to formally welcome these families to campus is just a small way we can say welcome home not only to the incoming students, but also to the families who came before them."
Following the day and assembly of students' respective rooms, all were invited to a reception to celebrate the continuing Seton Hall tradition within these families. The legacy family reception saw nearly 150 attendees who took a break from unpacking to meet fellow legacy families, Seton Hall administrators and current students.
The day ended with a movie on The Green, hosted by the Student Alumni Association and the Student Activities Board.
Seton Hall currently has 300 proud legacy families, all of whom are asked to save the date for our annual Legacy Family Breakfast, held during Seton Hall Weekend on Saturday, October 21. To register, please contact Erika Klinger at (973) 378-9827 or visit www.shu.edu/legacy. 
Categories: Alumni , Campus Life
---
Legacy Move-In Day 2017