Graduate
Doctor of Philosophy (Ph.D.)
Molecular Bioscience
With a strong foundation in both research and teaching, this program focuses on advanced training in modern life science disciplines, including: genetics, cell and developmental biology, biochemistry, microbiology, physiology, pharmacology, molecular ecology and immunology. Our training approach — coursework, research and collaborative interaction — builds students' intellectual abilities and prepares them for research careers in academia, industry and government. Both full-time and part-time study options are available for this degree.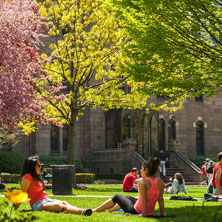 "The Institute of NeuroImmune Pharmacology and Sulie Chang offered me a unique experience. I was able to pursue rigorous doctorate research while maintaining a full-time job in the pharmaceutical industry. My doctoral degree not only provided me with a deep understanding of my field of research, but also the skills needed to advance in the industry: analytical thinking and written communication."

Natasha Homji, Ph.D. '12
This program consists of two phases: foundation coursework and dissertation research. In between, students take a comprehensive qualifying exam. You'll study and work inside McNulty Hall — where a $35 million upgrade helped build state-of-the-art research and teaching laboratories. In addition to classroom and seminar experiences, you'll conduct research through our faculty's programs or in collaboration with local biotechnology, pharmaceutical and academic institutions.
Faculty Listing
The Biological Sciences faculty conduct internationally recognized research and innovative, technologically-enhanced instruction. Faculty members have diverse interests in molecular, cell and systems biology, and maintain active research programs sponsored through federal funding, including the National Institutes of Health and National Science Foundation. Collaborative research programs with local biotechnology, pharmaceutical and academic institutions provide further research training opportunities for students.
Our Graduate Programs
The College of Arts and Sciences is dedicated to providing graduate programs to educate the professionals, scientists, educators and leaders of the future. Our goal is to impart the skills and knowledge that graduate students need to develop and follow successful career paths and to prepare them to contribute meaningfully to society through service and/or the advancement of knowledge. We believe that an education grounded in the principles of liberal arts and dedicated to societal advancement through research and interdisciplinary studies is the best instrument for producing well-rounded citizens with intentions that are both personally fulfilling and noble.
Loading Ph.D. in Molecular Bioscience...