Graduate
Master of Science (M.S.)
Biology
Whether you're drawn to research, academia, teaching or business, this master's degree has a track to get you there. Far from a one-size-fits-all model, our program prepares students for the careers they want while at the same time training them in basic research and teaching. Choose from numerous degree options, including a neuroscience track, a Ph.D.-focused preparation or a minor in business administration. To further serve our students, evening and weekend classes are available.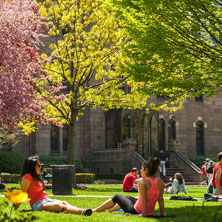 "The Institute of NeuroImmune Pharmacology and Sulie Chang offered me a unique experience. I was able to pursue rigorous doctorate research while maintaining a full-time job in the pharmaceutical industry. My doctoral degree not only provided me with a deep understanding of my field of research, but also the skills needed to advance in the industry: analytical thinking and written communication."

Natasha Homji, Ph.D. '12
As a foundation, all students study biology and biostatistics. From there, the journey is up to you: Plan A includes a thesis and prepares you for doctoral studies or a research career; B is a more coursework-oriented program; and C includes a minor in business administration, for students interested in the biological and pharmaceutical industries. We also offer a neuroscience track, requiring either a research or library thesis.
Faculty Listing
The Biological Sciences faculty conduct internationally recognized research and innovative, technologically-enhanced instruction. Faculty members have diverse interests in molecular, cell and systems biology, and maintain active research programs sponsored through federal funding from organizations including the National Institutes of Health and National Science Foundation. Collaborative research programs with local biotechnology, pharmaceutical and academic institutions provide further research training opportunities for students.
Our Graduate Programs
The College of Arts and Sciences is dedicated to providing graduate programs to educate the professionals, scientists, educators and leaders of the future. Our goal is to impart the skills and knowledge that graduate students need to develop and follow successful career paths and to prepare them to contribute meaningfully to society through service and/or the advancement of knowledge. We believe that an education grounded in the principles of liberal arts and dedicated to societal advancement through research and interdisciplinary studies is the best instrument for producing well-rounded citizens with intentions that are both personally fulfilling and noble.
Loading M.S. in Biology...