Undergraduate
Minor
Data Analytics
From marketing, finance and health care, to business, psychology and sociology, many industries are searching for employees who can skillfully manage large amounts of data. This pioneering program mixes mathematics with computer science and psychology, and teaches students how to collect, analyze and communicate complex information in eye-catching ways. Students may complete this minor at Seton Hall or entirely online.
Data Visualization and Analysis
Undergraduate and graduate programs are offered by the Department of Mathematics and Computer Science and the Department of Psychology.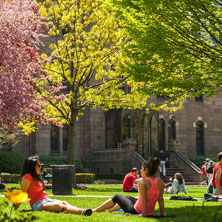 "Having on your resume that you are certified in data visualization and analysis will make you stand out. I can say from experience that it gives you more chances of getting jobs and more chances of moving up."

Jonathan ArenaData Analysis, CPXI
In both the online or on-campus versions of this program, students learn to translate data into visually striking presentations. Courses include statistics, data mining, visualization and cognition, as well as an internship. Through these varied experiences, students practice preparing real-world data for storing in databases, analyzing data with statistics and machine-learning tools, and using visualization to study data and present findings.
The minor is earned by completing 15 course credits and an additional 3-credit internship, for a total of 18 credits.
Prerequisites
PSYC 1101 Introduction to Psychology (minimum grade of C-), or equivalent
Undergraduate admission to Seton Hall University (enroll as a non-matriculated student)
Data Visualization and Cognition (6 credits)
DAVA 3000 Data Visualization
PSYC 3214 Cognitive Processes
Data Analytics (6 credits)
DAVA 3010 Data Mining
MATH 1203 (or approved substitutes such as BQUA 2811, CHEM 4212, MATH 2111, MATH 3711, PSYC 2311 for majors with these courses)
Practical Experience (3 credits)
DAVA 4011 Intern in Visual Analytics
PSYC 3408 Internship in Psychology
DAVA 4021 Project in Visual Analytics
CSAS 3095 Computer Science Co-Op I
CSAS 3096 Computer Science Co-Op II
CSAS 3097 Computer Science Co-Op III
or CSAS 4201 Honors Research Project I
Elective ( choose one of the following 3-credit courses)
AART 1223 2-D Design and Color
BITM 2701 Management Information Systems
BITM 3727 Advanced Business Software Tools (for students who have skills comparable to BITM 2701)
BMIE 3716 Access Database Application Development
COGR 3323 Presentation Graphics
CSAS 1114 Introduction to Program Design I
CSAS 1113 Computing for Science Majors
CSAS 4115 Databases
CSAS 4122 Computer Graphics Visualization
ENGL 2516 Business Writing
ENVL 3150 Geographic Information Systems
PHIL 1125 Business Ethics
Experience Seton Hall. Visit Us Today.
As one of the country's leading Catholic universities, Seton Hall has been developing students in mind, heart and spirit since 1856. Home to nearly 10,000 undergraduate and graduate students, Seton Hall is a place that nurtures compassionate leaders who are prepared to make a difference in the world.
Seton Hall offers all the advantages of a large research university -a national reputation;challenging academic programs; notable alumni; state-of-the-art facilities; renowned faculty;and extensive opportunities for internships, research and scholarship -with all the benefits of a small, supportive and nurturing environment.
The best way to truly experience Seton Hall is to visit us in person.