Graduate
Master of Arts (M.A.)
English
Seton Hall students pursing graduate degrees in English are as passionate and unique as the work they study. While they all share a love of language and a commitment to the written word, they pursue it in different forms: literature, writing or creative writing. We have a degree "spoke" for each, sprouting from a "hub" curriculum that covers research, literature and criticism. Students from this program continue on to Ph.D. and M.F.A. programs, teaching, and professional writing careers.
Master of Arts in English
Focus on literature, writing or creative writing. Prepare for further doctoral study or a career in teaching or boundless other fields.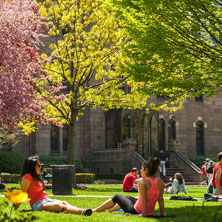 "The faculty in creative writing are proven writers; they provide an unprecedented level of experience and knowledge. They helped me master a unique blend of techniques that have been essential in the development of my skills as a creative writer, and this has better prepared me for getting published. I think that's what every writer wants."

Christopher Pollin, M.A. '16
The English Department takes a holistic approach to literary studies, emphasizing both reading and advanced writing skills. All students complete a 12-credit "hub" of core requirements, which include literature, research and criticism courses. Then they choose to focus on one of three "spokes": literature, writing or creative writing. In all three formats, students find engaging class discussions, connect with faculty mentors and receive one-on-one guidance to meet their goals.
Faculty Listing
The English Department faculty are equally committed to pursuing research scholarship and providing a vital component of a liberal arts education. Our faculty have expertise in rhetoric, literary study, writing and composition. The English Department faculty also have a distinguished record of funded research and specialization in multiple areas, including 19th-century English fiction, postwar American poetry, and dramatic literature and critical theory.
Our Graduate Programs
The College of Arts and Sciences is dedicated to providing graduate programs to educate the professionals, scientists, educators and leaders of the future. Our goal is to impart the skills and knowledge that graduate students need to develop and follow successful career paths and to prepare them to contribute meaningfully to society through service and/or the advancement of knowledge. We believe that an education grounded in the principles of liberal arts and dedicated to societal advancement through research and interdisciplinary studies is the best instrument for producing well-rounded citizens with intentions that are both personally fulfilling and noble.
Loading M.A. in English...