Undergraduate
Bachelor of Science (B.S.)
Marketing
Marketing can make the difference between a great concept that flops and one that becomes a smashing success. Talented marketers are in high demand today- particularly in the business world.
With a marketing concentration from Seton Hall, you'll be ready to work in social media, advertising, sales, product development, market research, or brand and product management.
You'll learn what makes people tick, how to give them what they value, and how to build loyal customers.
The Path to a Dream Job at CBS
Darryl Sessoms credits Seton Hall's supportive environment for his success.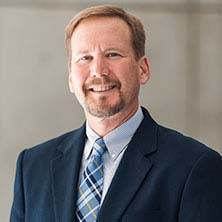 "A Stillman marketing degree prepares students through its 'concepts to practice' approach—by working directly with business professionals to solve real business problems."

Stephen PirogChair of the Department of Marketing
Seton Hall's marketing classes are dynamic and interactive, with a heavy emphasis on practical, real-world assignments.
Our core marketing courses will teach you about consumer behavior and market research. You'll learn how to plan, implement, and analyze marketing programs.
In our advertising course, for instance, you'll analyze TV commercials and develop your own campaign.
In our market research course, you'll create a marketing survey, using a questionnaire and sampling plan you design. You'll conduct live consumer research sessions in our new, state-of-the-art focus group facility.
You'll also take electives that zoom in on specific areas, including international marketing, branding, pricing, sales marketing, product planning, distribution strategies and promotional management.
Market Research Center
The Center is a state-of-the-art facility providing high-quality market research services for both the Seton Hall University and business communities. Students partner with actual clients to conduct surveys and focus groups to address real business challenges and develop actionable recommendations.
Program Faculty
Many of our full-time faculty have attended top Ph.D. programs and are in demand as lecturers, consultants and media experts. Stillman School faculty provide an academic experience characterized by high faculty-student engagement, often partnering with students on research and other projects.
Experience Seton Hall. Visit Us Today.
As one of the country's leading Catholic universities, Seton Hall has been developing students in mind, heart and spirit since 1856. Home to nearly 10,000 undergraduate and graduate students, Seton Hall is a place that nurtures compassionate leaders who are prepared to make a difference in the world.
Seton Hall offers all the advantages of a large research university -a national reputation;challenging academic programs; notable alumni; state-of-the-art facilities; renowned faculty;and extensive opportunities for internships, research and scholarship -with all the benefits of a small, supportive and nurturing environment.
The best way to truly experience Seton Hall is to visit us in person.