Undergraduate
Bachelor of Science (B.S.)
Chemistry
A chemistry degree can take you anywhere, from industry to government to academia. Some chemistry majors work in labs. Others hold jobs in environmental protection, law and policy, research and development or in many other areas. Our program prepares students for the path they choose to take. We offer two versions of this degree — one rigorous and focused; one more flexible. With a student–faculty ratio of less than 6:1, every student receives individual attention, gains extensive lab experience and works closely with faculty in our modern facilities.
Fighting Cancer with Light
Sergiu Gorun is leading a team of researchers seeking to unlock the power of light to help fight cancer and clean up the environment.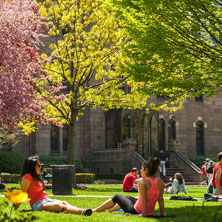 "My friends at other colleges haven't been able to get into the research labs as early as I have. They have to wait until junior or senior year, but I got into the labs my freshman year."

Matt Pennington, biology and chemistry student
What
Great Minds

Can Do
Victoria Blakey-Padilla
Victoria Blakey-Padilla contributed to important cancer research during her freshman year. 
We train students in the different disciplines of chemistry, preparing them for both immediate employment and graduate school. The B.S. with American Chemical Society (ACS) Certification is a rigorous program, ideal for students who will pursue graduate studies or work as chemists.
The non-ACS degree is a more flexible program, suited for students who plan to work in chemistry-related fields, such as environmental science, medicine and allied health professions. Lab experience is paramount throughout the program, and we strongly encourage undergraduate research. The Chemistry Honors Program - open by invitation only - provides further opportunities to work with faculty, and culminates in a senior thesis and graduation with honors.
View the full B.S. in Chemistry (Non-ACS) curriculum »
View the full B.S. in Chemistry (ACS) curriculum »
View Faculty Listing
Faculty members of the Department of Chemistry and Biochemistry form a thriving community that reaches out to other institutions — particularly the chemical industry in northern New Jersey. They are strongly committed to collaborative research. All faculty members lead research programs in cutting-edge areas, such as gas and liquid chromatography, chemical modification of surfaces, atomistic simulation of thin films, interfaces and biomolecules, properties of polymetallic complexes, biophysics of nucleic acids, lipid and membrane protein dynamics, synthetic routes for dendritic polymers, carbohydrate synthesis and advanced catalytic materials.
Experience Seton Hall. Visit Us Today.
As one of the country's leading Catholic universities, Seton Hall has been developing students in mind, heart and spirit since 1856. Home to nearly 10,000 undergraduate and graduate students, Seton Hall is a place that nurtures compassionate leaders who are prepared to make a difference in the world.
Seton Hall offers all the advantages of a large research university -a national reputation;challenging academic programs; notable alumni; state-of-the-art facilities; renowned faculty;and extensive opportunities for internships, research and scholarship -with all the benefits of a small, supportive and nurturing environment.
The best way to truly experience Seton Hall is to visit us in person.