Undergraduate
Bachelor of Arts (B.A.)
Social Work
Ready to make a difference? This program prepares you for generalist professional practice and qualifies you for New Jersey state certification. You would also be primed for graduate programs in social work, including our own Master's in Social Work, which typically offers advanced standing to students with an undergraduate degree in social work. In addition to classroom work, you can participate in carefully crafted social work internships, which often lead to full-time positions after graduation. Or maybe you'll wind up pursuing law school, working in public administration or launching a career in international affairs. Whichever path you choose, this program is excellent preparation.
If you are interested in learning more about the Social Work undergraduate major and minor programs, please contact the Program Director, Dr. Dawn Apgar, at dawn.apgar@shu.edu.
Social Work Servant Leader
Thomas Cadmus serves on two committee boards for the National Association of Social Workers and volunteers at the Daughters of Miriam Center.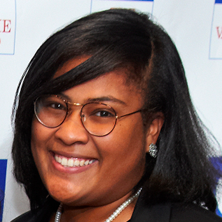 "I knew I made the right decision to transfer to Seton Hall when the faculty encouraged excellence beyond the classroom. From events on campus to workshops at other universities, the program has always encouraged me to be a leader who learns new ways to engage and work with diverse populations."

Sierra Spriggs, Social Work major
Our program combines a liberal arts base with a foundation in social work's values and ethics. You'll learn about social justice, poverty and oppression, and how to lead in the human and social services — and we're always looking to enhance our curriculum through student feedback. After learning theory and research methodology, you'll put your knowledge into practice through fieldwork. Our internships are guided learning experiences and include assignments in child welfare agencies, community action programs, criminal justice and corrections programs, healthcare facilities and many other settings. The BSW Program does not grant social work course credit for life experience or previous work experience.
Faculty Listing
Our social work faculty members have vast experience both as academics and as practitioners in the field. In addition to frequent conference presentations and article publications in the most prestigious journals in the field, the faculty have decades of teaching experience with universities and government associations, including the Department of Children and Families and the New Jersey Coalition for Battered Women. Faculty members are also experienced professionals in the fields of psychotherapy, addiction counseling and child welfare.
Experience Seton Hall. Visit Us Today.
As one of the country's leading Catholic universities, Seton Hall has been developing students in mind, heart and spirit since 1856. Home to nearly 10,000 undergraduate and graduate students, Seton Hall is a place that nurtures compassionate leaders who are prepared to make a difference in the world.
Seton Hall offers all the advantages of a large research university - a national reputation; challenging academic programs; notable alumni; state-of-the-art facilities; renowned faculty; and extensive opportunities for internships, research and scholarship - with all the benefits of a small, supportive and nurturing environment.
The best way to truly experience Seton Hall is to visit us in person.