Undergraduate
Bachelor of Arts (B.A.)
Psychology
Are you a good listener who likes to help people? Then studying psychology at Seton Hall might be the perfect path for you.
Our B.A. program provides academic courses and internship opportunities that prepare you for a wide range of careers focused on understanding behavior — from graduate studies in psychology, medicine or law to careers in business, research or school settings.
Here's what you need to know about studying psychology at Seton Hall:
A cornerstone of our program is that you will be able to learn inside the classroom as well as in the real world by engaging in a required experiential learning experience, this could be research, community service, an internship or all three!
You'll also have amazing opportunities to intern and build your résumé. Students have interned or found employment at the United Way, Alzheimer's Association, Jersey Cares, Make a Wish foundation, National Eating Disorders Association, and countless clinics, hospitals, community centers and non-profit organizations.
You will learn in small classes taught by faculty who are not only experts in the field but also dedicated to helping you succeed.
You can conduct research with faculty starting sophomore year in areas such as sports psychology, anxiety disorders, organizational behavior, behavioral neuroscience, memory, and depression.
Our curriculum allows you to explore human behavior in an environment that draws not only on social science but also on natural sciences and the humanities.
You might become one of the many students whose research with faculty is published in scientific journals or are able to present your research at the Eastern Psychological Association Conference.
Our students have taken advantage of competitive summer research institutes at NYU and received grant funding to conduct research over the summer.
These unparalleled opportunities are a big reason why our programs have a high acceptance rate to graduate schools like NYU, Fordham, Columbia, Boston University, Penn State, University of Connecticut, and Seton Hall Law.
What Makes Seton Hall Special?
Seton Hall student Joe Donato talks about what sets the University apart: academic excellence, diversity, the dynamic energy on campus — and more.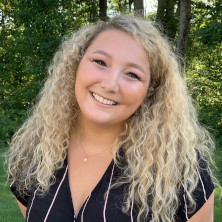 "It was through dedicated and inspirational faculty members that I was able to explore my personal interests and expand my perspective. I was able to take part in a fruitful internship in behavioral health that challenged me and allowed me to obtain hands-on experience before graduating. My encouraging learning and internship experiences paved the way for me to later pursue a master's degree in Mental Health Counseling and find success as a psychotherapist."

Stefania Mogavero
B.A. Psychology Curriculum Overview

Required Courses (15 credits): 
•    PSYC 1101 Introduction to Psychology (3 credits)
•    PSYC 1201 Orientation to the Psychology Major (1 credit)
•    PSYC 2311 Elementary Psychological Statistics (4 credits) 
•    PSYC 3311 Research Methods in Psychology (4 credits)
•    PSYC 5111 Seminar in Psychology (3 credits)

One Course from each of the following Categories: 
•    Social/Developmental
•    Clinical/Professional 
•    Fieldwork/Applied 
•    Biological Basis of Behavior and Mental Processes 
•    Learning and Cognition 

Experiential Learning Requirement
An internship in psychology, a laboratory research experience or any other psychology course with an explicit service learning component will fulfill this requirement.

Laboratory Requirement
One laboratory course that must be taken with or after the corresponding lecture.

Psychology Electives Requirement
12 additional psychology credits, with at least 6 credits at the 2000-level or higher.
Total: 43
Faculty Listing
Department of Psychology faculty members are nationally recognized scholars with research expertise spanning diverse areas of the field. Faculty research has been funded through awards from the U.S. Fulbright Scholar program, the Department of Education, the American Psychological Association, the National Institutes of Health, the National Science Foundation and the Spencer Foundation. Faculty member distinctions include serving on the editorial boards of journals, serving as review panelists for the National Science Foundation, serving on the Eastern Psychological Association (EPA) Board of Directors, presiding as president for EPA, and earning fellow status in both APA and EPA.
Experience Seton Hall. Visit Us Today.
As one of the country's leading Catholic universities, Seton Hall has been developing students in mind, heart and spirit since 1856. Home to nearly 10,000 undergraduate and graduate students, Seton Hall is a place that nurtures compassionate leaders who are prepared to make a difference in the world.
Seton Hall offers all the advantages of a large research university - a national reputation; challenging academic programs; notable alumni; state-of-the-art facilities; renowned faculty; and extensive opportunities for internships, research and scholarship - with all the benefits of a small, supportive and nurturing environment.
The best way to truly experience Seton Hall is to visit us in person.