Undergraduate
Bachelor of Arts (B.A.)
Psychology
Why do people act or feel a certain way? How does the human mind work? How can businesses identify good potential employees? What do babies understand about the world around them? These are some of the questions psychologists ask. Psychology is a broad field, blending natural science with social science and humanities. Our B.A. program provides academic courses and internship opportunities that prepare you for a wide range of careers focused on understanding behavior — from graduate studies in psychology, medicine or law to careers in business, research or school settings. You'll also experience psychology in the "real world" through internship courses, we place students at more than 200 sites throughout New Jersey.
What Makes Seton Hall Special?
Seton Hall student Joe Donato talks about what sets the University apart: academic excellence, diversity, the dynamic energy on campus — and more.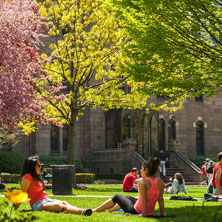 "As a psychology major at Seton Hall, I have been given many opportunities to succeed. Whether it be in the classroom learning from teachers invested in students' success, or in Psychology Club and Psi Chi, where I have had the chance to make an impact on others in the Seton Hall community. At times I have felt challenged by the rigorous curriculum, but I am confident and grateful that the major has prepared me for the next steps in my career."

Alyssa Kaiser '16
Our program introduces you to all areas of psychology, including biological psychology, abnormal psychology, child psychology and drug and alcohol abuse, among many others. You'll start with a one-credit course designed to help you understand the major, learn about employment opportunities with a degree in psychology, and make sure psychology is the right major for you. You'll also acquire marketable skills in areas such as critical thinking, problem solving, and verbal and written communication. An adviser will help you tailor the program to your interests and objectives. 
Not only can you take engaging courses with world-class professors, you'll also have opportunities to get hands-on experience. Most full-time faculty have active research labs and students can help with cutting-edge research. You can also complete a for-credit internship, where you might be placed in a clinic, hospital, courthouse, mental health center, counseling, community center or school throughout the state. These internships offer hands-on experience and for many students lead directly to post-graduation jobs.
Faculty Listing
Department of Psychology faculty members are nationally recognized scholars with research expertise spanning diverse areas of the field. Faculty research has been funded through awards from the U.S. Fulbright Scholar program, the Department of Education, the American Psychological Association, the National Institutes of Health, the National Science Foundation and the Spencer Foundation. Faculty member distinctions include serving on the editorial boards of journals, serving as review panelists for the National Science Foundation, serving on the Eastern Psychological Association (EPA) Board of Directors, presiding as president for EPA, and earning fellow status in both APA and EPA.
Experience Seton Hall. Visit Us Today.
As one of the country's leading Catholic universities, Seton Hall has been developing students in mind, heart and spirit since 1856. Home to nearly 10,000 undergraduate and graduate students, Seton Hall is a place that nurtures compassionate leaders who are prepared to make a difference in the world.
Seton Hall offers all the advantages of a large research university - a national reputation; challenging academic programs; notable alumni; state-of-the-art facilities; renowned faculty; and extensive opportunities for internships, research and scholarship - with all the benefits of a small, supportive and nurturing environment.
The best way to truly experience Seton Hall is to visit us in person.