Undergraduate
Bachelor of Arts (B.A.)
Political Science
Whether you're considering a career in law, public policy, government administration, campaign management, advocacy or the private sector, a political science degree is excellent preparation. It's a major that will challenge you. Our faculty will develop your ability to think critically, assess situations and develop responses to meet any challenge. They will teach you the theories, institutions and processes of politics and government and will inform you about a wide range of political systems: local, state, national and global. You'll learn outside the classroom, too, with for-credit internships and research opportunities in New York City, Washington, D.C. and beyond.
What Great Minds Can Do: Chloe Magnuson
"I don't think I would be where I am today without the help I got from Seton Hall."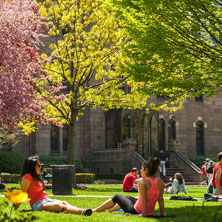 "Seton Hall's political science professors have vast knowledge and expertise that enable students to learn the foundations of political science and critically examine political and administrative systems in the world. The small class sizes lead to vibrant class discussions about current events and provide opportunities to really engage with, and understand, the perspectives of faculty and peers."

Tim Hoffman M.P.A.
Political science majors complete the College of Arts and Sciences core requirements and at least 36 credits in political science. A department adviser will help you plan which courses you take and when, and they may even modify the program to meet your particular background and objectives. Our classes span the political spectrum — from U.S. politics to international relations — with focused electives that range from Development and Democracy in Africa, to Organizing Grassroots Communities, to Constitutional Law.
Faculty Listing
The faculty members of the Department of Political Science and Public Administration are experts in comparative politics, international relations, political theory and behavior, campaign management, public administration, nonprofit management, public policy and public law. In just one recent year, the faculty published three books and presented papers at 14 conferences both nationally and internationally. Our professors are also among the foremost sources for political analysis in the tristate area and have made more than 100 media appearances in just the past year to discuss political issues. Outside of the classroom, our instructors have provided learning opportunities for students with U.S. Customs and Border Protection, congressional offices, private law firms, insurance companies, New Jersey state government and local government offices, as well as community-based organizations and lobbying and advocacy groups.
Experience Seton Hall. Visit Us Today.
As one of the country's leading Catholic universities, Seton Hall has been developing students in mind, heart and spirit since 1856. Home to nearly 10,000 undergraduate and graduate students, Seton Hall is a place that nurtures compassionate leaders who are prepared to make a difference in the world.
Seton Hall offers all the advantages of a large research university - a national reputation; challenging academic programs; notable alumni; state-of-the-art facilities; renowned faculty; and extensive opportunities for internships, research and scholarship - with all the benefits of a small, supportive and nurturing environment.
The best way to truly experience Seton Hall is to visit us in person.