Undergraduate
Bachelor of Arts (B.A.)
Philosophy
The study of philosophy is concerned with a number of issues about the world and our place in it. These include our understanding of ethics, politics, knowledge, truth, religion, and justice. Each of these concerns important notions in society that require careful examination. Students of philosophy learn about the history of ideas that have shaped our intellectual heritage in the West, and how they can be better understood. In this way the study of philosophy provides students with an enriched knowledge of our society. Students in the program have gone on to work in philosophy, education, law, business, and other areas.
An Introduction to Our Philosophy Program
Presented by Department Chair Abe Zakhem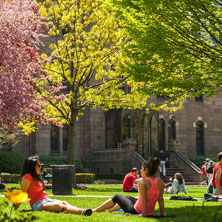 "The Seton Hall philosophy program challenged me to broaden my thinking and gave me a solid framework for analytical thought. My career as an immigration lawyer and managing partner of my own firm is directly attributable to my engagement with philosophy at Seton Hall."

Cesar M. Estela, Esq. '05/J.D. '09
The major in philosophy requires students to complete 30 credits of coursework in a variety of areas. Options include historical courses, including courses in Ancient Philosophy and Modern Philosophy, as well as courses in various areas of contemporary interest, such as Ethics, Philosophy of Law, Political Philosophy, and Biomedical Ethics. Students work closely with the department chair to select courses to meet their individual interests and objectives. In addition to the Philosophy major, there are two minors of 18 credits each and a pre-law emphasis for students.
Faculty Listing
The Philosophy Department faculty is committed to excellence in teaching and research. The faculty has expertise in a wide range of areas covering the history of the field, including topics of recent interest. Our faculty has a distinguished record of scholarship and has published journal articles, books, and translations of major figures. The small class sizes in the program enable students to work closely with their professors.
Experience Seton Hall. Visit Us Today.
As one of the country's leading Catholic universities, Seton Hall has been developing students in mind, heart and spirit since 1856. Home to nearly 10,000 undergraduate and graduate students, Seton Hall is a place that nurtures compassionate leaders who are prepared to make a difference in the world.
Seton Hall offers all the advantages of a large research university - a national reputation; challenging academic programs; notable alumni; state-of-the-art facilities; renowned faculty; and extensive opportunities for internships, research and scholarship - with all the benefits of a small, supportive and nurturing environment.
The best way to truly experience Seton Hall is to visit us in person.