Undergraduate
Bachelor of Science (B.S.) / Bachelor of Arts (B.A.)
Biology
In the broadest terms, biologists study life and living organisms. Their work spans many facets of the world and can take various forms, from advancing medicine, to addressing challenges of biodiversity, to developing biotechnology. While our B.A. in Biology is for students interested in incorporating their biology expertise into other fields, the B.S. is meant for students who would like to pursue careers in science or who are considering graduate programs in science or medicine. The program provides a strong foundation in the modern sciences and prepares students through experiential learning, laboratory research and off-campus work experiences.
How Seton Hall Lab Work Opens Doors
Early access to competitive Internships and state-of-the-art labs are hallmarks of the Seton Hall experience.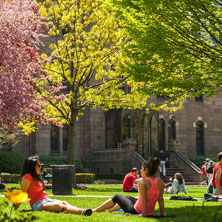 "My friends at other colleges haven't been able to get into the research labs as early as I have. They have to wait until junior or senior year, but I got into the labs my freshman year."

Matt Pennington, biology and chemistry student
Students in this program study biology, chemistry, mathematics and physics. The program starts with General Biology I and II and Genetics courses, then covers cell biology, four semesters of chemistry, two of physics and two of math. Electives allow you to explore specialized areas of biology and to pursue independent library or laboratory research. Students with especially strong academic credentials may apply for the Biology Honors Program, which leads to a senior thesis.
Faculty Listing
The Biological Sciences faculty conducts internationally recognized research and innovative, technologically-enhanced instruction.
Experience Seton Hall. Visit Us Today.
As one of the country's leading Catholic universities, Seton Hall has been developing students in mind, heart and spirit since 1856. Home to nearly 10,000 undergraduate and graduate students, Seton Hall is a place that nurtures compassionate leaders who are prepared to make a difference in the world.
Seton Hall offers all the advantages of a large research university - a national reputation; challenging academic programs; notable alumni; state-of-the-art facilities; renowned faculty; and extensive opportunities for internships, research and scholarship - with all the benefits of a small, supportive and nurturing environment.
The best way to truly experience Seton Hall is to visit us in person.