Undergraduate
Bachelor of Arts (B.A.)
English
The reasons to major in English are as plentiful as the doors the program opens. English majors learn the intellectual and practical skills employers and graduate schools want: proficient reading and writing, critical analysis and the ability to express ideas. Our program offers a variety of literature and writing courses, with small class sizes that promote open, invigorating discussion. Independent studies and internships let you further tailor the major to your interests and needs. You may also work on Corner Pocket, our student literary magazine, or be invited to join the English honor society, Sigma Tau Delta.
What Makes Seton Hall Special?
Professor Mary Balkun shares what sets Seton Hall apart.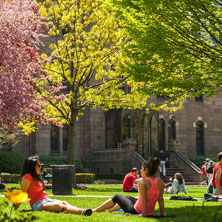 "The English program not only trained me to think, read and write better but it also put me in close contact with an extremely devoted faculty. The professors' dedication to students is shown, among other places, in their willingness to take their students' dreams as seriously as their own."

Philip Schochet '06/M.A. '09
What
Great Minds

Can Do
Conor Murtagh
Former Marine Conor Murtagh followed his calling to become a teacher and earned a Fulbright along the way.
This program combines a core of traditional survey courses — exploring the literature of England, America and Europe — with a variety of advanced, specialized courses that focus on specific authors and periods, or on creative writing. The curriculum is designed to let students follow their strengths and interests while building a solid understanding of literary periods and moments. Whether you pursue your passion for 19th century British literature, your flair for creative writing, your talent for literary criticism or something else entirely, you'll find engaged faculty, small classes filled with lively discussion, and exciting literary worlds.
Internships
English students have the option to participate in a variety of resume-building internships. Recent internship sponsors have included Penguin Publishing, Simon and Schuster Publishing, Green Room Public Relations, Marvel Entertainment, Open Road Integrated Media, WFAN and The Hip Event.
Faculty Listing
The English department faculty is equally committed to pursuing research and to providing a vital component of a liberal arts education. Our faculty has expertise in rhetoric, literary study, writing and composition. Additionally, the English faculty has a distinguished record of funded research and specialization in multiple areas, including 19th century English fiction, postwar American poetry, dramatic literature and critical theory.
Experience Seton Hall. Visit Us Today.
As one of the country's leading Catholic universities, Seton Hall has been developing students in mind, heart and spirit since 1856. Home to nearly 10,000 undergraduate and graduate students, Seton Hall is a place that nurtures compassionate leaders who are prepared to make a difference in the world.
Seton Hall offers all the advantages of a large research university - a national reputation; challenging academic programs; notable alumni; state-of-the-art facilities; renowned faculty; and extensive opportunities for internships, research and scholarship - with all the benefits of a small, supportive and nurturing environment.
The best way to truly experience Seton Hall is to visit us in person.