Undergraduate
Bachelor of Arts (B.A.)
Creative Writing
If you love telling stories, envisioning new worlds and tinkering with syntax, you might be a creative writing major. This program teaches students the art and craft of poetry or fiction writing. It also emphasizes literature, because no one becomes a great writer without first consuming great literature. This degree can take you many places. Our creative writing alumni now work in writing, editing, teaching, public relations, law and media jobs. They also pursue Master of Fine Arts programs or doctoral studies.
Corner Pocket
Corner Pocket, our student literary magazine, was founded in 2014. Published once a year, the magazine features fiction and poetry. Students can earn valuable editorial and publishing experience participatin in its production and marketing. For more information, e-mail shuliterarymagazine@shu.edu.
What Makes Seton Hall Special?
Professor Mary Balkun shares what sets Seton Hall apart.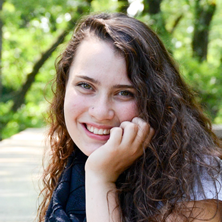 "The creative writing major at Seton Hall provides an excellent opportunity for students to hone the finely detailed skills of their craft, discover and explore their unique voice as writers, and challenge themselves to be continually culturally relevant, aware and poignant, all while empowering them to pursue a passionate career doing what they love."

Miranda Hajduk '16
What
Great Minds

Can Do
Conor Murtagh
Former Marine Conor Murtagh followed his calling to become a teacher and earned a Fulbright along the way.
This program balances scholarship with artistic practice. Students learn to create their own works by first understanding the literary tradition. Required courses include Great Books, American Literature and British Literature, along with a general introduction to creative writing course. Students also take focused workshop courses in poetry or fiction writing after selecting one as their concentration. In each course, you'll find engaging and widely published faculty — and small classes that foster deep discussion and create lifelong connections.
Faculty Listing
The English department faculty is equally committed to pursuing research scholarship and providing a vital component of a liberal arts education. Our faculty members have expertise in rhetoric, literary study, writing and composition. Additionally, the faculty has a distinguished record of funded research and specialization in multiple areas, including 19th-century English fiction, postwar American poetry, and dramatic literature and critical theory.
View all Department faculty »
Experience Seton Hall. Visit Us Today.
As one of the country's leading Catholic universities, Seton Hall has been developing students in mind, heart and spirit since 1856. Home to nearly 10,000 undergraduate and graduate students, Seton Hall is a place that nurtures compassionate leaders who are prepared to make a difference in the world.
Seton Hall offers all the advantages of a large research university - a national reputation; challenging academic programs; notable alumni; state-of-the-art facilities; renowned faculty; and extensive opportunities for internships, research and scholarship - with all the benefits of a small, supportive and nurturing environment.
The best way to truly experience Seton Hall is to visit us in person.