Undergraduate
B.S./M.S. or B.A./M.S.
Psychology/Speech-Language Pathology
Speech-language pathology is a growing field in which professionals work with children and adults who have communication and swallowing disorders. Speech-language pathologists (SLPs) work in educational, health care, academic and private practice settings. Across these settings, SLPs can:
Work with someone who has a social communication disorder such as autism spectrum disorder
Assist someone with a cognitive-communication disorder such as aphasia
Help someone who has issues understanding others or expressing themselves effectively while talking
An undergraduate psychology degree and its focus on understanding and evaluating human behavior in combination with foundational courses in speech, language and hearing sciences provides excellent preparation for future work in the field of speech-language pathology. This dual-degree program provides students with the opportunity to combine the undergraduate Psychology program with automatic admission to the M.S. in Speech-Language pathology program at SHU after meeting specific undergraduate criteria.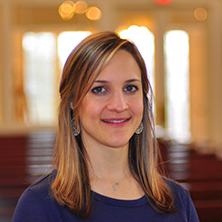 "An undergraduate psychology degree from Seton Hall was the perfect choice on my way to becoming a speech-language therapist. Through my courses, I gained insight into the various behaviors, learning difficulties, and mindsets that a person could have. This allowed me to then treat each person for more than their disorder. The combination of rigorous course work and a dynamic faculty helped mold me into a well-rounded and versatile therapist."

Megan (Mills) Pagano, '10
Students will complete the curriculum for a B.A. or B.S. in Psychology in addition to six courses in speech, language and hearing sciences and other undergraduate pre-requisite courses. Students will be paired with both a Psychology and SLP advisor to ensure timely completion of the program. The curriculum for the MS program can be found here.
Experience Seton Hall. Visit Us Today.
As one of the country's leading Catholic universities, Seton Hall has been developing students in mind, heart and spirit since 1856. Home to nearly 10,000 undergraduate and graduate students, Seton Hall is a place that nurtures compassionate leaders who are prepared to make a difference in the world.
Seton Hall offers all the advantages of a large research university - a national reputation; challenging academic programs; notable alumni; state-of-the-art facilities; renowned faculty; and extensive opportunities for internships, research and scholarship - with all the benefits of a small, supportive and nurturing environment.
The best way to truly experience Seton Hall is to visit us in person.