Wednesday, February 15, 2017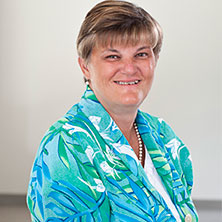 Mary Ellen Roberts, D.N.P., R.N., A.P.N., C. FNAP, FAANP, FAAN, from the College of Nursing was elected as Chair of the American Academy of Nurse Practitioners Certification Board (AANPCB), effective January 1, 2017. AANPCB is the largest national organization for certification of Nurse Practitioners to work in all 50 states of the country as adult gerontology, family, and emergency nurse practitioners (NP). Her commission elected position follows past service as President of the American Academy of Nurse Practitioners (AANP) Board of Directors and Chair of the Fellows of the American Association of Nurse Practitioners. She is the second of only two people in the country to hold multiple national positions.
The foremost responsibility for the AANPCB is the administration of the certification exam through appointed commissioners and subject matter experts. Beyond this, however, Roberts' two-year term will heavily focus upon influencing the overall direction of education and training of advanced practice nurses. As part of an APRN roundtable, Roberts will lead an agenda at the forefront of directing policy on issues of public safety. They will discuss educational quality as well as discuss common issues of concern to all advanced practice nurses, including credentialing, legalities and patient safety. But perhaps most important will be the ability to navigate the future of the profession in the age of a new government with very determined ideas on issues of healthcare.

According to Roberts, nurses were not eligible for Medicare or Medicaid and were paid under physicians as late as 1997. "We worked very hard to get these privileges, "she states. Her fear is that the repeal of the Affordable Care Act (ACA) could hurt NP's. "Our profession got a lot from the ACA. Through it, we were able to push full practice further in 22 states and the VA (Veteran's Administration)." While Roberts admits that there may be some validity to the issue of insurance exchanges being anything but "affordable," she echoes the sentiment of the act having many positive attributes regarding pre-existing conditions and the ability for children to remain under their parent's policies until the age of 26.

For Roberts, the political is intrinsic to the profession, a dual responsibility she has chosen as part of her entire career. Long before she assumed her current leadership position, she played a significant role in shaping key facets of legislation that have benefitted colleagues and students alike. Roberts was present at the White House when President Obama called for the legendary up-and-down vote, only the second time in history for that vote to be taken. Staying active is something she stresses to her students with the same importance as proper training, as a means to preserve and advance their roles as part of the next generation's healthcare environment.
One might be inclined to wonder where Roberts gets the energy or the time to balance her many responsibilities as a practicing nurse practitioner, professor and organizational leader. When asked what she gets from all of it, she states, "I love it. I love doing certifications. It's the end of the educational experience—the final achievement—the validation of a lot of hard work and passionate commitment. I feel proud to have played a role in that experience."
The name Mary Ellen Roberts means something in nursing circles, not just in this country, but also internationally. She will soon be part of a six-person team that will set up advance practice programs in Norway, Belgium and Ireland. For students, the opportunity to train under someone who influences so much is indeed a unique educational experience—and what better way to learn than getting it directly from the source?
Mary Ellen Roberts is certified as an Adult Nurse Practitioner and Acute Care Nurse Practitioner. Her professional interests are in the primary care of Adult Cardiovascular patients. Roberts maintains a practice with the Urban Health Initiative Program serving vulnerable populations in the greater Newark, New Jersey area. Roberts is known for her expertise in cardiovascular care, specializing in women and heart disease, hypertension, lipids and acute coronary syndrome. Her current research focuses on self-efficacy in vulnerable populations related to cardiovascular disease. She is Assistant Professor in the graduate department of the College of Nursing at Seton Hall University, where she directs the Doctor of Nursing Practice (D.N.P.) and Acute Care AGNP programs.
For more information on the College of Nursing click here »

Categories: Health and Medicine