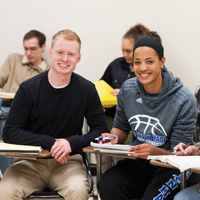 Seton Hall University announces that it is renewing its innovative Public Tuition Rate program, which offers high-achieving high school seniors from across the United States the chance to attend the university for the same cost as in-state tuition at Rutgers, the largest public university in New Jersey – a savings of more than 68 percent per year. The program will be offered to incoming freshmen enrolling at Seton Hall in the fall 2013 semester.

Seton Hall tuition for 2012-13 is $32,700, while in-state tuition at Rutgers is $10,356, giving students who qualify and enroll at Seton Hall a savings of $22,344 annually at a time when families across the country continue to deal with the implications of the economic downturn.

Sophia Joseph of Piscataway, NJ, is one of the freshmen who took advantage of the PTR program. The daughter of a hospital administrator, Joseph says her selection for the PTR program has been a "blessing" and has had an "impact beyond words" on her family, eliminating an enormous financial burden. And, she says, the PTR program sends a message to students that their hard work in high school does pay off.

The Public Tuition Rate (PTR) program is open to all 2013 high school graduates in any state who plan to enroll at Seton Hall in September 2013. To qualify for the PTR program, students must have a combined score of at least 1200 on the critical reading and math sections of the SAT with no less than 550 in either section, or a composite ACT score of at least 27. They must also graduate in the top 10 percent of their high school class. The deadline to apply is December 15. No special application is required. For more details, visit www.shu.edu/go/ptr.

"We are committed to making a Seton Hall education attainable for hard-working, accomplished students of any means," said University President A. Gabriel Esteban. "In its first year, the program has exceeded our expectations by bringing a remarkably diverse and talented group of students to Seton Hall who are well-prepared for their college experience and will undoubtedly make important contributions inside and outside of the classroom as the next generation of servant leaders."

The Public Tuition Rate program attracted a large pool of high-achieving applicants for the Class of 2012 and was a factor in a 25 percent increase in enrollment. This year's freshmen class numbers a record 1,450, the largest in more than 30 years.

"For high school seniors who may think attending one of the nation's leading Catholic universities is financially out of reach, the PTR program offers a life-changing opportunity to receive a world-class education with the benefits of a small, nurturing environment," said Seton Hall Vice President of Enrollment Management Alyssa McCloud. "Another benefit of the program is that it takes all of the mystery out of college finances by letting students and their families know what their costs will be up front. It's a unique chance to eliminate the uncertainty, relieve most of the financial pressure and allow students to pursue the education they deserve."
For more information please contact:
Undergraduate Admissions
(800) 843-4255
thehall@shu.edu