The Aspiring Kindness Foundation, which has raised more than $200,000 for first responders, emergency service providers and fire prevention and education programs, has announced its Sixth Annual Charity Golf Outing at the Forest Hill Field Club in Bloomfield, NJ, on Monday, June 18.
Reflecting the origins of the charity that was formed in the aftermath of the Seton Hall University dormitory fire, the organization hopes to raise $25,000 to benefit the University, focusing on fire awareness and prevention. Master of Ceremonies for the dinner is Seton Hall alumnus Glenn Schuck '85, 1010 WINS news anchor, CBS New York.
Aspiring Kindness Foundation, a 501(c)(3) not-for-profit public corporation, was created by childhood friends of Aaron Karol, one of three freshmen who lost their lives in the Jan. 2000 Boland Hall fire. Borrowing his initials in giving their philanthropic effort a name, the AK Foundation raises money as a tribute to Karol and the other young men who perished, Frank Caltabilota and John Giunta. The charity golf outing is the foundation's biggest fundraiser.
During the past five years, the event has raised more than $80,000, including scholarships to benefit first responders in 2016 and 2017, enabling scholarships for Seton Hall students who are devoting their lives to careers as first responders.
One of those students, Zil Moda, is a junior biology major and a committed volunteer EMT with the Sayreville Emergency Squad, which responds to more than 200 calls for assistance each month. The grant has made it possible for Zil to continue her commitment as an EMT in addition to her studies. She plans on becoming a doctor and has an interest in hemotology as well as radiological oncology.
She shared that she wanted to "thank the Aspiring Kindness Foundation for supporting me in my academic ventures and really acknowledging the work first responders do. They are the connection between the patient and the hospital and getting proper treatment."
Seton Hall has also received $20,000 to Seton Hall's Housing and Residence Life Department for the first ever Mock Fire Emergency Exercise that brought together student volunteers, the Department of Housing and Residence Life, Public Safety, the South Orange Fire and Police departments and Rescue Squad, The Burn Center at Saint Barnabas Medical Center and Community Emergency Response Teams (CERT) volunteers. Earlier proceeds of $12,000 supported the University's Health and Counseling Services (CAPS), enabling students to participate in the Send Silence Packing exhibit on suicide awareness and prevention to help young people struggling in the aftermath of a tragedy, and a donation provided new uniforms for the South Orange Rescue Squad in 2013.
"Our relationship with Aspiring Kindness has been a blessing, not just for me but for so many at Seton Hall. The Aspiring Kindness team has remained committed to their cause and vision. I am awestruck by the impact their work has in our community as well as communities beyond our campus," said Tara Hart, Senior Director of Administration, Division of University Advancement.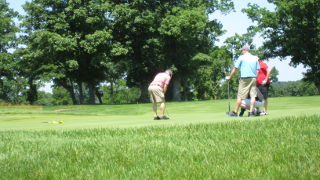 Through grassroots campaigns, Aspiring Kindness Foundation has presented 18 grants totaling more than $136,000 in the six years since it began and has made donations to Saint Barnabas Burn Center, the South Orange Fire Department, the Blood Center of New Jersey, the South Orange Rescue Squad and other organizations.
"Receiving support from the public for our foundation and this golf outing is especially meaningful to us and for our emergency first responders who risk their lives to make a difference at a time when they are encountering difficulty in obtaining funding due to subsiding federal and state assistance," explained Jason Tarantino, Aspiring Kindness Foundation President, Foundation Vice President Mike Merizio, M.B.A. '11, and Foundation Secretary James Merizio.
The charity golf outing is a day-long event that includes a round of golf with cart, use of the practice facilities, breakfast, lunch and dinner including an open bar, beer and non-alcoholic drinks in coolers throughout the course in addition to a beverage cart, an Aspiring Kindness Foundation memorabilia gift and contests and prizes. Longest Drive and the Closest to the Pin contests are scheduled, and the awards include First Place Scramble and Second Place Scramble, among others.
The Forest Hill Field Club at 9 Belleville Avenue (Club Road), Bloomfield, NJ, is a classically designed par 71 challenge by the legendary A. W. Tillinghast, and is known as a golfer's golf course. The highly regarded architect has a portfolio of notable courses including Baltusrol, Winged Foot, Ridgewood, Alpine and Bethpage Black. As was Tillinghast's trademark, each of the 18 holes is unique, taking advantage of the natural topography and brining all elements of the game into play.
Register for the golf outing here.
Entry fees are $230 for an individual golfer, $880 for four players, and $65 for those attending only the clubhouse dinner, which will have an open bar. There are also sponsorship opportunities that range from sponsoring a hole for $225 to sponsoring the dinner and awards for $1,000. Golfers at the event view it as an opportunity to honor those who died and were injured in the fire while helping to improve the lives of others.
For more information, visit the Aspiring Kindness Foundation website or email info@aspiringkindness.org.
Categories: Alumni , Faith and Service