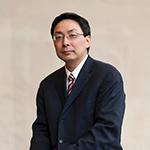 Yanzhong Huang, Ph.D., director of the Center for Global Health Studies and associate professor in the School of Diplomacy and International Relations, testified before the Congressional China Economic and Security Review Commission during a recent hearing on "China's Healthcare Sector, Drug Safety, and the U.S.-China Trade in Medical Products." The hearing was held at the Russell Senate Office Building in Washington, D.C.
Dr. Huang testified along with two other panelists during the hearing's first sessions on "Policy Challenges in China's Healthcare Sector." Each of the panelists submitted a written testimony; Dr. Huang's can be read here»

In his testimony, titled "Health-care Provision and Health-care Reform in Post-Mao China," Dr. Huang discussed the gap between urban and rural communities, governance issues, and several other important topics surrounding China's healthcare system. He concluded that, "[a]n effective strategy to engage China's health-care sector requires the U.S. government to continue promoting business opportunities for U.S. biopharmaceutical firms, hospital groups, and insurance companies. In the meantime, it is also important for the U.S. government and companies to demonstrate the willingness to work with China in addressing health issues of their immediate concern, including population aging, tackling NCDs and their risk factors, and access to effective and affordable medicines."
The U.S.- China Economic and Security Review Commission was created by the United States Congress in October 2000 with the legislative mandate to monitor, investigate, and, if necessary, provide recommendations on the national security implications of the bilateral trade and economic relationship between the United States and the People's Republic of China.
Dr. Huang received his Ph.D. degree in political science from the University of Chicago. He is graduate of Johns Hopkins University's Center for Chinese and American Studies, Nanjing, China.
The Center for Global Health Studies, directed by Dr. Huang, serves as a think tank and resource center on issues relating to health, governance, and security. The Center examines infectious diseases, bioterrorism, and other global health issues from a foreign policy and security perspective.
Seton Hall established the School of Diplomacy in the fall of 1998. Now over 500 students strong and an Affiliate Member of the Association of Professional Schools of International Affairs (A.P.S.I.A.), the School was the first professional school of international relations to be established after the Cold War. At that time, the School forged an exclusive alliance with the United Nations Association of the U.S.A., which continues to allow the School special access to the United Nations community.
For more information please contact:
Dr. Yanzhong Huang
(973) 275-2815
yanzhong.huang@shu.edu