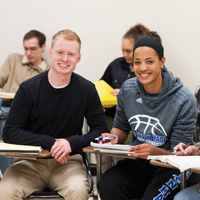 Do you know a high school senior who belongs at Seton Hall? Help a student see all of the opportunities that a Seton Hall education has to offer! You now have the opportunity to endorse a high school senior's application and ultimately waive their application fee. Application Fee Waiver packets have been mailed to all alumni. Give the included fee waiver cards to high school seniors that you know to encourage them to apply to The Hall!
You can also encourage students to take a campus tour or attend an open house.
Give them an application fee waiver, and encourage them to apply by:
November 15 for Early Action I
December 15 for Early Action II
February 1 for Preferred Deadline
March 1 for Regular Decision
If you didn't receive an Application Fee Waiver packet in the mail, this likely means that Seton Hall doesn't have your address. You can update your information and request a packet by emailing alumni@shu.edu.
Thanks for all you do to support Seton Hall. Go Pirates!
For more information please contact:
Dan Nugent
(973) 378-2641
alumni@shu.edu