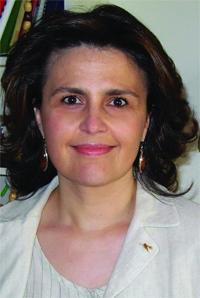 Ines Angeli Murzaku, Ph.D., Professor of Religious Studies and Chair of the Department of Catholic Studies has been selected for a Fulbright Specialists Award, in which she will be exploring the interaction of different ethnicities and religions throughout the South of Italy.
Dr. Murzaku, who has authored several books, garners further distinction with her second Fulbright award, to a life dedicated to strengthening inter-religious dialogue and interaction. "The most important goal for me is to analyze the interaction in the medieval history of Southern Italy and investigate if it sets any paradigm for the current inter-religious, inter-faith, inter-ethnic and inter-cultural dialogue," says Murzaku. "Theoretically, my work proves that monasticism can play a role in inter-religious dialogue."
University Provost Dr. Larry Robinson, Ph.D., expressed with great sentiment his thoughts on Murzaku's accomplishments. "I am especially pleased to learn that Dr. Ines Angeli Murzaku, Professor of Religious Studies and Chair of the Department of Catholic Studies, has been selected for the Fulbright Specialists Program. This prestigious recognition of her scholarship, highly valued in the academy, enhances both her academic reputation as well as that of the University," says Dr. Robinson.
Murzaku, who specializes in Ecclesiastical history, and teaches church history and theology at both undergraduate and graduate levels at Seton Hall, earned her doctorate from the Pontifical Oriental Institute in Rome. Murzaku explained that her extensive travel and attained knowledge molded her as a person. "I love all of the countries I have lived and learned in, and their exceptionally rich traditions have shaped me in so many different ways, but most importantly, these countries have taught me one important lesson: to value and appreciate cultural differences," says Murzaku.
While her academic roots are spread throughout much of the world, Dr. Murzaku realizes the tremendous impact that her studies and Fulbright award will have on Seton Hall in particular, yet more importantly the impact it will have on Seton Hall students. "I am sure that I will return deeply enriched from my experience in Italy and ready to convey to my students the results of my field research, says an excited Murzaku. "Moreover, the Department of Catholic Studies strives to be a center of excellence, both scholarship and research oriented; a think-tank, a core of the core of SHU values and traditions but most of all, a center of dialogue for all university constituents, so I think that the Fulbright will benefit the department as well," she added.
Dr. Murzaku has been in close contact and collaboration with colleagues in Italy who have enthusiastically supported her diligent research. Murzaku will be offering a number of seminars and lectures to the undergraduate and graduate students of the University of Calabria, focusing on the place of religion in modern society, taking into account sociological, anthropological and historical perspectives.
"My colleagues and students have supported me all the way through, and I am deeply grateful," says a humbled Murzaku. We have an excellent faculty who are preparing the next generation of nurses, business people, lawyer, doctors, educators, theologians and priests, providing them with the knowledge and values of a Catholic education."
Amongst her two Fulbright distinctions, Murzaku also holds accolades for a prestigious four year (2009-2012) Alexander von Humboldt Research Award for Experienced Researchers by the Government of the Federal Republic of Germany and a three-year (2009-2011) Social Sciences and Humanities Research Council of Canada Award by the Canadian Federal Government.
Dr. Murzaku will embark for the South of Italy this coming winter break. For more information on Dr. Murzaku or the Department of Catholic Studies, please contact the department at (973)-275-5845 or by email at cast@shu.edu.
For more information please contact:
Matthew Fantau
(973) 800-3295
matthew.fantau@student.shu.edu