2013 International Conference
Journey of Transformation: Perspectives from Bernard Lonergan
Co-sponsored with the Maryvale Institute, Birmingham, England
Saturday, June 29, 2013,  at the Catholic Chaplaincy, Oxford, University,Oxford, England,  including a visit to Heythrop Park, formerly the Jesuit college where Lonergan studied.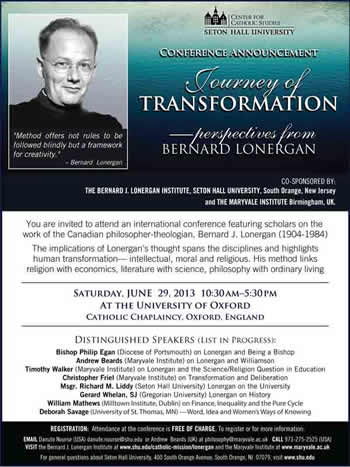 The international summit conference convened international academics and other experts, along with the interested public, and examined the writings and theories of the renowned 20th century philosopher-theologian, Bernard J. Lonergan, S.J. (1904-1984). This conference focused on the implications of Lonergan's thought throughout the disciplines and the professions and provides a startling template for distinguishing and integrating the various fields of human endeavor. His framework links religion with economics, literature with science, philosophy with ordinary living.