Wednesday, February 28, 2018
In celebration of 2018 Seton Hall University's Charter Week the Joseph A. Unanue Latino Institute and the Catholic Studies Program will be presenting a special lecture by Rev. Augustus "Gus" Puleo, on March 14th at 5:00 p.m. in the Chancellor's Suite of the University Center on Campus.
Distinguished Speaker and Guest:
The Rev. Augustus "Gus" Puleo is pastor of St. Patrick Church in Norristown, Pennsylvania. He is an expert on Mariology and an adjunct professor of Spanish at St. Charles Borromeo Seminary in Philadelphia. Fr. Gus is a graduate of Norristown High School and attended Georgetown University, where he received B.A. and B.S. in Spanish and linguistics. He also has master's degrees in Spanish, linguistics, and divinity from Middlebury College, Georgetown University and St. Charles Borromeo Seminary. In addition, Fr. Gus holds a Ph.D. in Spanish from the University of Pennsylvania.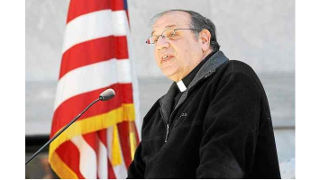 Lecture Preview:
Fr. "Gus" will address how Our Lady of Guadalupe is at the forefront of the immigration debate in our country. Through her apparition and love for her children, Our Lady of Guadalupe provides a unique lens by which we can understand more fully how immigrants, and those residing in the United States, can live together in peace, as we are all her children. The talk will explore how her appearance, based on the actual historical events of the apparition of Our Lady of Guadalupe in Mexico, endures as a valuable and divine lesson in our lives today. 

This event will also be hosting a luncheon located at the Chancellor's Suite of the University Center at 12:30 p.m., as well as a Spanish Mass at the Immaculate Conception Chapel at 3:00 p.m.
This event is free and open to the public. Reservation required for luncheon by Monday, March 12.
For information on future events, scholarships, and all that is #JAULI, stop by the Latino Institute's office located in Fahy Room 246. Don't forget to follow the Institute Twitter and Instagram @JAULISHU to stay up to date with their latest news and events.
For any questions, please contact the Institute's Graduate Assistant, Ms. Jacquelyn Coletta, at jacquelyn.coletta@student.shu.edu
Categories: Arts and Culture