Thursday, September 7, 2017
To kick off the 2017 College of Arts & Sciences Lecture Series the Joseph A. Unanue Latino Institute and their co-sponsors will be presenting Dr. Carlos Eire, Professor of History and Religious Studies from Yale University. The Joseph A. Unanue Latino Institute and the affiliated departments invite you to join them on Wednesday, September 20, 2017  at noon in the Chancellor's Suite of the University Center on Campus. The event will also be providing a free tapas themed lunch.
This event is free and open to the public. No reservation is required.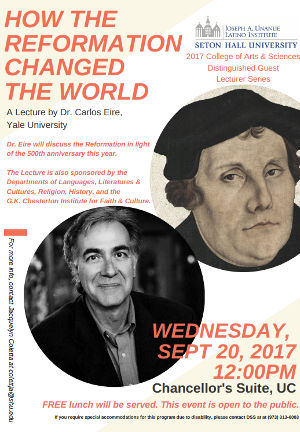 Lecture Preview: 
In light of the Reformation's 500th Anniversary, Dr. Eire will be presenting his recent publications and research into this exciting, tumultuous period. His book Reformations: The Early Modern World (2016) has won an award for Best Book in the Humanities and the R.R. Hawkins Prize for Best Book of the Year from the American Publishers Association. In addition, Dr. Eire has served as president of the Society for Reformation Research.
Biographical Fun Facts on our Distinguished Guest:
Dr. Carlos Eire received his Bachelor of Arts in History and Theology in 1973 from Loyola University in Chicago and his Doctoral Degree from Yale University in 1979. Dr. Eire was born in Cuba and emigrated to the US at the age of 11; his memoir Waiting for Snow in Havana won the 2003 National Book Award in Nonfiction and has been translated into more than a dozen languages. *All of his books are banned in Cuba, where he has been proclaimed enemy of the state – a distinction Dr. Carlos Eire regards as the highest of all honors he has received.
For information on future events, scholarships, and all that is #JAULI, stop by the Institute's office located in Fahy Room 246. Don't forget to follow the Institute Twitter and Instagram @JAULISHU to stay up to date with their latest news and events.
For any questions, please contact the Institute's Graduate Assistant, Ms. Jacquelyn Coletta, at jacquelyn.coletta@student.shu.edu.
This event was also made possible by Co-Sponsorships with the Departments of Languages Literatures & Cultures, Religion, History, and the G.K. Chesterton Institute for Faith & Culture.
Categories: Nation and World