NEWS
College of Communication and the Arts' Center for Graduate Studies Prepares for PhD Launch in the Fall of 2018
NEWS
Senior executives discuss the strategies for millennial women to improve and further build their confidence.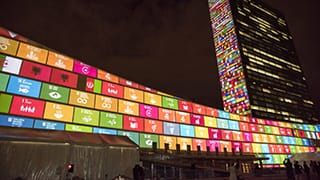 IN FOCUS
Propose solutions to help the UN combat climate change, reduce inequality, ensure quality education, or address other Global Goals and you could win up to 50% Seton Hall tuition scholarships and cash prizes to launch your ideas.
NEWS
The Lewinson Center for the Study of Labor, Inequality & Social Justice will advance labor studies in broad terms.
NEWS
Professor Mark Molesky appeared on NPR's "Academic Minute" to talk about his widely acclaimed book on the "Gulf of Fire."
IN FOCUS
Tour campus, learn about our academic programs, and meet current students and faculty.
Experimental Psychology at Seton Hall
Close collaboration with faculty and state-of-the-art facilities prepare you for further Ph.D. study or a career in a research-intensive field.