For Community Members
Visiting Seton Hall University
Visiting campus is one of the best ways to see for yourself how much Seton Hall has to offer. To learn more about the University please check out our Visiting Page »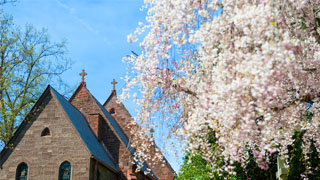 Chapel
Seton Hall's Chapel of the Immaculate Conception is rightly called the "Heart of the Campus." In it's almost 150 years it has welcomed generations of Setonians. Often renovated, time had taken a toll on the very fabric of the building. The restoration, renovation, and renewal completed in 2008 gives to present and future Setonians a noble sanctuary, a renewed "Heart of the Campus."
The Chapel is open to the community and welcomes you at a Mass. Visit the beautiful restoration of the Chapel »
Walsh Library
The University Libraries have notable resources, including extensive holdings of almost 750,000 book volumes, and 1,127 current periodical subscriptions, back-files of more than 6,500 serial titles, electronic access to full text articles in more than 25,000 journals, a broad selection of indexing and abstracting services in both digital and print formats, various microform collections, music CDs, and audiovisual aids. The University Libraries are selective depository for U.S. Federal, State of New Jersey and U.N. publications. Learn more about the University Libraries »
Visitors from the community must register at the Circulation Desk, showing such identification as a valid driver's license, or other acceptable form of identification. In addition, visitors must obtain a pass and wear it visibly during the time they are in the University Library.
Walsh Library is also a member of the Reciprocal Borrowing and Lending Consortium that allows ReBL card holders to borrow up to six books. Learn more »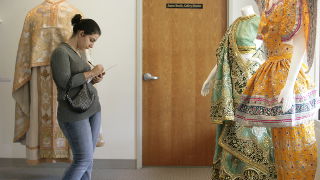 Walsh Gallery
The Walsh Gallery is the primary exhibition space on the South Orange campus of Seton Hall University. Since its inception in 1994, the gallery has presented dynamic exhibitions with a broad range of appeal and subject matter. Serving both the university and surrounding communities, the Walsh Gallery hosts a number of exhibitions yearly that range in topic from fine art to the historical, with an emphasis on interdisciplinary themes. Recent shows have included the widely acclaimed "The Redemptive Vision of Georges Rouault", "Voces y Visiones-Highlights from El Museo del Barrio's Permanent Collection" and "Paperwork". Visit the Walsh Gallery »
Arts Council
The Seton Hall University Arts Council supports the integral role of the arts in higher education and their universally recognized status as a hallmark of an educated and humane culture.  The Council contributes to the cultural vitality of the campus and to the University's role in the greater community by fostering and promoting the visual, literary and performing arts, enhancing communication and collaboration among its members.
The Arts Council serves as the umbrella organization for the Arts Council Classical Concert Series, Jazz 'n the Hall, Joseph A. Unanue Latino Institute, Poetry-in-the-Round, Seton Hall Theatre, and the Walsh Gallery. Learn more about the Arts Council and upcoming events »
Class Auditing
Would you like to learn a new language? Brush up on your history or astronomy? Community members are able to audit courses for $100 per credit plus fees.  These discounted offerings are  for no credit and are restricted to open courses at in-person registration sessions immediately prior to the beginning of a semester.  If you register as auditors are expected to attend class regularly but are not obligated to take tests or comply with any other course requirements.  The audit option is not allowed in computer, computer based laboratory, applied art, applied music, graphics, studio television, writing, physical education activity, independent study, thesis or dissertation, or any off-campus courses.  Learn more about the two types of audit options available » 
For Local Businesses
Pirates Gold
Pirate's Gold is a debit-like account you can use to purchase items or pay for services on and off campus. From buying a textbook, getting a snack or doing your laundry, Pirate's Gold is both easier and faster than using cash. If you're a local business and interested in becoming a merchant participant in this program please contact the Campus ID Office »
Career Center
Internships to Job postings the Career Center can help match students to particular opportunities. Learn more about The Career Center »
Village Liaisons
Village Liaisons is a student organization for improved community relations. They serve as a link between the university and its surrounding communities, and more importantly, a bridge between students and residents.