In addition to their assigned Peer Adviser , students meet their assigned Mentor from the Freshman Studies program at Pirate Adventure orientation.
The Mentor is a professional adviser who serves as a professor in the University Life course, as a resource for many questions about the curriculum, and as a counselor to help freshmen plan their course of study.
The Mentor helps students clarify personal, academic and career goals.
Together, the Mentor and the student examine these goals and use them to shape an academic plan and semester coursework.
As a student's academic and perhaps personal issues arise, Mentors are available to counsel the students.
Mentors make students aware and encourage students to take advantage of the many Seton Hall University resources available on campus, such as the Academic Resource Center , the Career Center ,

Health Services

and

Counseling Services

, and the

Campus Ministry

, to make the first year of college a great success.
Our program's goal is to assist students in fulfilling their potential while making realistic choices when choosing their major. The students' choices should always reflect both their interests and abilities.
Meet our Mentors
Nicole Battaglia

Nicole A. Battaglia earned both her B.A. in Psychology and her M.A.E. in College Student Personnel Administration from Seton Hall University. While attending Seton Hall, Nicole worked as a Peer Adviser for Freshman Studies and was a Brother of the Service Fraternity, Alpha Phi Omega. Continuing her passion for service Nicole traveled with DOVE to El Salvador where she learned the meaning behind, "the best way to find yourself, is to lose yourself in the service of others"- Gandhi. After completing her M.A., Nicole went on to Wagner College where she was the Academic Resource Coordinator for Student-Athletes and then the Assistant Athletic Director for Student Services.
Professor Battaglia has returned to Seton Hall as the Mentor for the Fast Forward Program. She is so excited about returning to her Alma Matter and looks forward to helping students reach their goals. Professor Battaglia encourages her students to constantly challenge themselves to be better than they were yesterday. In the words of Pelé "Success is no accident. It is hard work, perseverance, learning, studying, sacrifice and most of all, love of what you are doing." Professor Battaglia can be reached by phone at (973) 275-4809 or by email at Nicole.Battaglia@shu.edu.
Chiroshri Bhattacharjee

Chiroshri Bhattacharjee earned her B.S. in Psychology with a Pre-Med concentration from Stony Brook University, NY. From her internship and shadowing experience, she decided to further her career goals with a M.S. in Clinical Mental Health Counseling from Syracuse University, NY. During her time at Syracuse University, her interest in clinical research, mental health outreach and advocacy grew exponentially. Chiroshri has a passion for education and believes that a student-teacher relationship must be a symbiotic one, where both continues to learn from one another.
Currently, Chiroshri is pursuing a Ph.D. in Counseling Psychology to continue her journey in becoming a scientist-practitioner and an educator. Her personal and professional goal is to work towards fighting stigma around Mental Health in college campus and underprivileged communities as well as advocate for more accessible and affordable mental health treatment. Chiroshri is very excited to join Freshman Studies and be an active part of the students' first year experience at Seton Hall University. Chiroshri has an open- door policy and is dedicated towards serving her students and families. She can be reached at Chiroshri.bhattacharjee@student.shu.edu or (973)275-2091 and her office is located in Mooney Hall 11.
Joan Brennan
An employee since 1991, Joan Brennan joined the Freshman Studies Program in 1999. She earned a Master of Public Administration degree as well as a Bachelor of Arts degree in Social & Behavioral Sciences from Seton Hall University. Joan is the designated adviser for students who have been accepted into the Joint Bachelor's/M.D. Program and a secondary adviser for students who have an interest in pre-medical professions. She helps students with understanding the curriculum and assists in course selection. She also provides academic support to Veterans. What is Joan's advice to students? "An investment in knowledge pays the best interest." Joan can be reached by phone (973) 275-2595 or e-mail at Joan.Brennan@shu.edu to answer questions and to discuss goals and strategies for success. Her office is located in Mooney Hall 13.
Gerald Cameron

Gerald Cameron graduated from New Jersey City University with a B.A. in Political Science, a Master's in Divinity from Princeton Theological Seminary, and a Master's in Higher Educational Leadership from Temple University. While doing chaplaincy work under the Office of Religious Life at the University of Pennsylvania, Gerald found his passion for working with college students. Currently Gerald is pursuing a Ph.D in Higher Education Administration, Policy at Seton Hall University. He plans to produce groundbreaking research in the field of higher education that will assist institutions of higher learning in better serving underrepresented demographics. Outside of school, Gerald loves traveling to new places and enjoys a good meal. Gerald can be reached by phone at (973) 275-2351 or by e-mail at cameroge@shu.edu. Gerald's office is located in Mooney Hall Room 12.
Marisa Case
Marisa Case is delighted to be a team member of the Department of Freshman Studies at Seton Hall University. Professor Case earned her B.A. from Glassboro State College and her M.F.A. from the Catholic University of America. Understanding the significant successes and challenges that students face during their university years, she likes to remind her first year students to focus on a core value system that will support them throughout their lives – regardless of course of study or choice of career. What matters is a true sense of an authentic academic, spiritual, and social self. "Knowing yourself is the beginning of all wisdom." Aristotle. You can contact Professor Case at (973) 761-9614 or Marisa.Case@shu.edu. Professor Case is located in Mooney Hall Room 11.
Kalya Castillo
Kalya Castillo earned a BA from Bard College, where she majored in Sociology with a concentration in Multiethnic Studies. After graduating she taught character education to 7-12th grade students through a non-profit organization based in public schools within Westchester County and the Bronx, NY. The experience inspired her to enter the counseling field and in 2011 she obtained an MSEd in School Counseling/Counselor Education from CUNY Lehman College. While Kalya had planned to become a K-12th grade school counselor, she ventured into and found passion in counseling and advising first-generation college students. As the first in her family to obtain a college degree, she has a vested interest in helping students by comprehensively focusing on their academic, social and personal development. In addition to her role as a counselor, Kalya serves as an adjunct professor for undergraduate and graduate programs in Special Education and Counselor Education within the NYC CUNY system. She is also a field consultant to first and second year special education teachers in NYC.
Currently Kalya is pursuing a PhD in Counseling Psychology at Seton Hall University and is excited about working as a mentor in the Freshman Studies Program. Integral to student achievement is the support of individuals vested in their growth and potential to succeed. Kalya looks forward to her role in this process with her students as they embark on a new chapter of their lives at Seton Hall. Her office door is always open to students and families at Mooney Hall, room 19. She can also be reached through email at Kalya.Castillo@student.shu.edu or phone at 973-275-2456.
Thomas Conte
Thomas Conte graduated from the University of Scranton with a Bachelor of Arts in History. Although he was expecting to be a high school teacher, after two years teaching and being a special needs paraprofessional, he realized that he would prefer to work with college students. Tom completed his Master's Degree in College Student Personnel Administration at Seton Hall and plans to pursue his Ed.D in Higher Education in the near future. Tom's favorite quote comes from William Shakespeare's Henry V: "Once more unto the breach, dear friends, once more." For Tom, it signifies the fights we face and victories and failures we encounter academically, professionally, and personally. Tom's outlook on school and life is that no matter where we end up, we must consistently move forward through the good and the bad. Tom is excited to be working with college students as both an advisor and an instructor to better serve the community and students at Seton Hall. Tom can be found in Mooney Hall room 15, reached through e-mail at Thomas.Conte@shu.edu and by phone at (973)-275-2761.
Robin Cunningham
Robin Cunningham graduated from Seton Hall with a B.A. in English, a M.A. in Counseling and an Ed.S in Secondary Education. From 1984 to 2003, Dean Cunningham was the Director of Academic Support Services for student athletes at Seton Hall. In 2004, she moved over to Freshman Studies to work with the general freshman population. In 2006, Dean Cunningham became the Director of the Seton Summer Scholars program, in 2010 she was named Associate Dean of Freshman Studies and she is now the Associate Vice President of Freshman Studies. She enjoys working with students, and teaching is one of her great passions.
Dean Cunningham has been recognized numerous times for her service to the university with such honors as the retirement of her basketball jersey, her induction into the Seton Hall Athletics Hall of Fame, receiving the Alumni Association's Many Are One Humanitarian Award and most recently receiving the university's McQuaid Medal. Dean Cunningham's favorite saying is: "It's not where you start; it's where you finish." Dean Cunningham can be reached at (973) 275-2159 or Robin.Cunningham@shu.edu.
Pattric Davis

Pattric Davis earned a B.A. and M.A. from Boston College, where he majored in Psychology with a concentration in Mental Health Counseling. During his BC tenure, Pattric worked as a drug addiction counselor at the Addiction Treatment Center of New England and a teaching assistant for an urban public middle school. This experience placed Pattric in a variety of situations and conversations with people of many different ages and racial/ethnic backgrounds. Pattric hopes that his counseling experience will act as a positive benefit when advising, teaching, and mentoring incoming Seton Hall students. Pattric's passion for psychology and helping others directly translates to his work in Freshman Studies and will allow him to build meaningful relationships with students on campus.
Currently, Pattric is pursuing a Ph.D in Counseling Psychology at Seton Hall University and is excited to start this new opportunity as a mentor in the Freshman Studies Program. Pattric looks forward to his new role as his students also embark on a new stage of their lives. Pattric's office is located in Mooney Hall 14 and is always open to students and their families. Pattric can also be reached through email at pattric.davisa@student.shu.edu or phone at 973-275-2541.
Jacqueline Galler 
Jacqueline Galler (DeBenedetto) earned her B.S. in Elementary and Special Education from Seton Hall University. She specialized in with working with students with disabilities and taught in a Pre-School Special Education classroom for one year. She recently graduated from Seton Hall with her M.A.E in Instructional Design and Technology while working as a Freshman Studies Mentor and Placement Test Coordinator in the Freshman Studies Department. Currently, Jacqueline is working towards her Doctor of Education in Higher Education, Administration and Policy. Working with undergraduate students is a passion of hers as she hopes to inspire students to take full advantage of the many opportunities that Seton Hall has to offer. Aside from working as a Freshman Studies Mentor, Jacqueline enjoys spending time with her friends and family, reading, and traveling. She can be reached at debeneja@shu.edu or at (973) 275-2762 and is located in Mooney Hall Room 12.
Megan Gottlieb
Megan graduated from Rutgers University with a B.A. in History. She joined the Freshman Studies program as an adviser in the Sophomore Center. Through the Sophomore Center, Megan provides students with support and guidance during their second year at Seton Hall. Sophomore year is a time for students to focus on academics, to plan ahead, and to continue to stay involved on campus. With events both social and academic in nature, the Sophomore Center offers a community in which students can reach their fullest potential. Megan is dedicated to helping students succeed and to prepare them for their future by connecting them to a variety of campus resources. She also advises students with 30 or more credits who have yet to declare their major. Megan can be reached at Megan.Gottlieb@shu.edu or (973) 275-2105.
Tracy Gottlieb
Tracy Gottlieb, Ph.D., former Dean of Freshman Studies, was named Vice President of Student Services in January of 2012. She began her academic career as a professor at Seton Hall in 1988, but it was a homecoming - she is a 1975 graduate of the university with a degree in Communication. After commencement, she worked as a reporter and editor at the Associated Press for five years. She moved to Brussels, Belgium, in 1980 and worked as editor of the monthly magazine, Commerce in Belgium. Dr. Gottlieb returned to the United States in 1984 and began graduate school at the University of Maryland. She graduated with her doctorate in Public Communication in 1992. She is an expert in journalism history, specifically the role of women in journalism. She is the author of several books and dozens of scholarly articles.
Maggie Hernandez
Maggie Hernandez graduated from Berkeley College in West Paterson, NJ where she majored in Business Management and Administration. She is a recent graduate of Seton Hall University where she earned a master's degree in College Student Personnel Administration. Maggie is the Operations Coordinator for Freshman Studies and has recently taken on advising responsibilities. She is so excited to make a difference in the lives of Seton Hall students. Maggie can be contacted at (973) 275-2286 or Maggie.Hernandez@shu.edu.
Simon Miller

Simon Miller is a native of the Bahamas, who earned his B.A. in Psychology from the College of Charleston in 2015, and his M.A. in Psychological Studies from Seton Hall in 2017. While pursuing his master's degree, Simon grew to love Seton Hall and feels humbled that he has been welcomed into such a warm and vibrant community. He feels privileged to have the opportunity to work in Freshman Studies as a mentor and to be able to give back to a community that has given so much to him.
After graduating in 2017, Simon went on to work as a Success Coach with a diverse group of youth from the New York City foster care system. While working in that position, Simon served as a mentor and provided academic and social support to students who are considered at-risk youth and are often over-looked by society. Although the work was challenging, Simon found it to be very fulfilling. While there, he found his passion for working with college students, and his experience working with foster youth has inspired him to be an active agent of positive change within his community.
Simon is currently pursuing his Ph.D. in Counseling Psychology at Seton Hall, endeavoring to one day achieve his goal of becoming an advocate for the underprivileged and disenfranchised. Everyday he strives to become an exemplary representative of the Seton Hall Community, as well as his native "Bahamaland." He hopes that he can be an inspiration to his students, the same way that he is certain they will be for him. Simon can be reached via e-mail at Simonleigh.Miller@student.shu.edu, and by phone at 973-275-2160. Simon's office is in Mooney Hall Room 12.
Carissa Leoni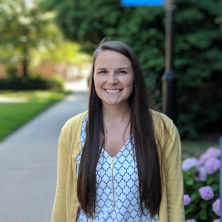 Carissa Leoni is excited to be joining the Freshman Studies team as a Freshmen Studies Mentor and Assistant Director of Academic Support Services for Student-Athletes. Professor Leoni earned both her B.A. in Communication and Information and her Master's in College Student Affairs at Rutgers University. She spent a brief time here at Seton Hall University as a Graduate Assistant in 2015 for the Office of Academic Support Services for Student-Athletes and is thrilled to be back on campus full-time working with Seton Hall students and student-athletes.
Carissa can be reached by email at carissa.leoni@shu.edu or by phone at (973) 761-9159.
Lauren Mitchell
Lauren Mitchell graduated from Fordham University with a B.A. in Anthropology and English, and came to Seton Hall University to earn her M.S. in Marriage and Family Therapy. Lauren has a passion for working with students in transition, empowering them to utilize resources and support to reach their highest potential. Lauren strives to instill within her students an appreciation for possibility: possibility within their SHU community, and possibility within themselves. Herein lies the first step toward achievement and innovation. Lauren's door is always open to students. She can also be reached at (973)275-6483 or lauren.mitchell@shu.edu.
Brittany Morris
Brittany Morris earned her Bachelor's Degree in Criminal Justice from Seton Hall University. Brittany is currently at the University pursuing a Master's in Public Administration with a concentration in Public Service. During her time as an undergraduate student, she was an active member of the National Council for Negro Women and Seton Hall Dance team. Brittany aspires to make a great impact in the legal field after obtaining her Masters. Brittany is excited to join the Freshman Studies department and share with the new freshmen the many opportunities that Seton Hall has to offer. Brittany wants to help her student have a smooth transition from high school to college and encourage her students to push past their limits and achieve bigger and better dreams in their four years at Seton Hall. One thing that Brittany wants her student to remember is "Don't fake it till you make it. Believe in yourself until the world catches up." (Chris Brogan) Brittany Morris can be contacted via e-mail at Brittany.Morris1@student.shu.edu or by phone at (973) 275-2743.
Hezal Patel
Hezal Patel earned a B.A. in Psychology from Rutgers University and a M.A. in Counseling from Teacher's College, Columbia University. Having joined the Seton Hall Community in 2001, Professor Patel is the Assistant Dean of Freshman Studies and the Director of The Transfer Center. With a background in Counseling, Professor Patel finds it most rewarding when she is able to help students realize their dreams and the ability to achieve them. She really enjoys working with students and getting to know them beyond the classroom. Her door is always open and visitors are always welcome to her office. Professor Patel's advice to students is to find what makes them happy and follow their dreams. "YOU create the life you want to live." Outside of work, Professor Patel enjoys being a mom of three children and spending quality time with her family. Some of her hobbies include cooking, baking, crocheting, and reading. Students can contact Dean Patel by phone (973) 313-6008, e-mail Hezal.Patel@shu.edu, or stop by Mooney Hall 14a.
Forrest Pritchett
Rev. Pritchett joined Seton Hall in 1978. During that time, he functioned as the following: Assistant Dean of the Black Studies Center; Faculty Mentor in Freshman Studies; Adjunct Professor in the departments of Africana, Interdisciplinary and Religious Studies; Program Director of the Dr. Martin Luther King, Jr. Leadership Program and the SHU Gospel Choir; and he currently serves, or did serve as an adviser to numerous student organizations.
Rev. Pritchett has been recognized several times for his contributions to the University. He was awarded the University McQuaid Medal in 2003, Employee of the Year in 2008, the University Faculty Pirate Pride Award in 1999-2000 and the University Human Relations Citation in 1997. Rev. Pritchett has been also been acknowledged for his involvement in the community. Rev. Pritchett was awarded by the New Jersey Association of Black Educators the "Black Educator of the Year Award," by the Association for the Study of Afro American Life and History the "Frederick Douglas-Sojourner Truth Award," by the Jersey City Library the "Paul Robeson Award," by the New Jersey Educational Opportunity Programs the "Educational Champion Award," and by the National Association for the Advancement of Colored People: New Jersey Convention the "Distinguished Educator Award." In 2016 he received the Lifetime Achievement Award from the Cooperation for National and Community Service and office of the President of the United States.
Rev. Pritchett's personal philosophical paradigm is drawn from Holy Scripture and the following great observations:
" Behold, I send you forth as sheep in the midst of wolves: Be wise as a serpent and gentle as a dove…" Matthew 10:16.

"If I am walking with two other men, each of them will serve as my teacher. I will pick out the good points of the one and imitate them, and the bad points of the other and correct them in myself…" Confucius.
Rev. Pritchett can be reached at (973) 275-2760 or Forrest.Pritchett@shu.edu. Rev. Pritchett is a 2003 McQuaid Medalist, Program Director of the MLK Leadership Program and Faculty Adviser to the Gospel Choir.
Lisa Robinson
Lisa Robinson earned her Bachelor's degree in Secondary Education from Oklahoma State University. She specialized in the areas of English and Social Studies and taught high school English before joining the Freshman Studies team.  Lisa went on to earn her Master's degree in Strategic Communication from Seton Hall University. Working and interacting with students has always been a passion of hers, and she really enjoys mentoring and advising Seton Hall's freshmen students. Lisa also works as a Transfer Student advisor in the Transfer Student Center, and her door is always open. Her main goal is to help all students transition successfully and become part of the SHU Pirate family. Lisa's favorite quote to live by is: "Don't waste life in doubts and fears; spend yourself on the work before you, well assured that the right performance of this hour's duties will be the best preparation for the hours and ages that will follow it." Lisa can be reached through e-mail at Lisa.Robinson@shu.edu or her office phone at (973) 275-2763
Adriana Rojas

Adriana Rojas graduated from Kean University with a double major in History and Political Science. Since then she has worked as a college counselor and eventually went back in the classroom to work with middle and high school students. Teaching has always been one of her passions. When the opportunity presented itself to work with college freshmen during their first year at Seton Hall, Adriana made the decision to begin a new chapter and work within a Higher Education community. She believes students should empower themselves to take advantage of every educational opportunity, be courageous, and embrace their fears to move themselves forward. By continuing as an educator and advisor, Adriana intends to have a positive impact on her students as a Freshman Studies Mentor.
Adriana's office is in Mooney Hall room 14, and she can be reached at Adriana.rojas@student.shu.edu or at (973) 275-6458.
Sarah Tabat
Sarah Tabat graduated from Seton Hall University with a B.S. in Diplomacy and International Relations, with an additional major in Sociology and two minors in French and Economics. Presently, Sarah is pursuing her Master's in Business Administration with a concentration in Marketing. As an undergraduate at "The Hall", she was involved from the beginning. Sarah was a Brother of the Service Fraternity, Alpha Phi Omega, a Founder and a Sister of Zeta Tau Alpha and worked in Freshman Studies all four years as a Peer Advisor and then a Peer Advisor Coordinator. Sarah understands the parallel goals, passions, and values of the Freshman Studies Department which she strives to incorporate as she helps students on a higher level. Her multi-discipline background provides her with the skill set to assist the diverse cultures of students at home as well as drive changes needed to accomplish national successes abroad. As she took on internships in the non-profit sector, Sarah devoted herself to helping others and getting others involved. Sarah hopes to continue her passion in helping women and children within the non-profit sector focusing on Sub-Saharan Africa. For now, Sarah knows that working in Freshman Studies will continue her mission of helping others as they once did for her. Sarah Tabat can be reached at (973) 761-9578, at Sarah.tabat@student.shu.edu and in Mooney Hall room 12.
Brittany White
Brittany White graduated from Seton Hall University with her B.A. in English and Creative Writing and a minor in Legal Studies in Business. After making the decision to not attend law school, Brittany realized how much she loved and missed working with college students as a Peer Adviser and decided to follow a new career path. She returned to Seton Hall and earned her M.A.E. in Higher Education and Student Affairs and is currently pursuing her Ph.D. in Higher Education Leadership, Management, and Policy. Outside of school, Brittany enjoys spending time with friends and family, being outdoors, reading, and making unforgettable memories. Her favorite quote and one she believes all students should keep in mind is, "Go confidently in the direction of your dreams. Live the life you've imagined." – Henry David Thoreau. Brittany encourages all students to take advantage of every opportunity and resource Seton Hall has to offer. She also believes students should remember that it's OK if the original plan falls apart; pick up each piece one by one and create a new path. Your possibilities are endless. Brittany can be reached by phone at (973) 761-9407 or by e-mail at Brittany.White@shu.edu.