Thursday, October 20, 2016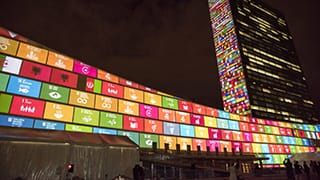 Seton Hall University's School of Diplomacy and International Relations is excited to announce the launch of its second UN Sustainable Development Challenge (UN SDC). Building on the popularity of last year's program for high school students, this year, the University is sponsoring two challenge programs: one for high school students; and a second grad challenge for college seniors and recent bachelor's degree graduates. The challenge is the same for each group: propose solutions to any of the UN Global Goals.

Come up with an innovative idea for addressing climate change, poverty, education or another issue the UN aims to tackle by 2030, and you could win a Seton Hall scholarship and a cash prize to help you put your project idea into action.

In response to the first Sustainable Development Challenge earlier this calendar year, more than 300 high school students submitted ideas, including 132 proposals that came from outside of the United States. Finalists presented their projects in person at Seton Hall, on DVD, or via Skype. Proposals were submitted for a variety of new concepts addressing vaccine creation, biofuel production, the expansion of solar roadways, and the distribution of internet-based learning kits.

"Last year's competition was a huge success," recalls Martin Edwards, Associate Professor and the 2016 UN SDC director. The success, he adds, was "not only in bringing talent to Seton Hall but also in telling the world that the School of Diplomacy is committed to the UN Sustainable Development Goals in a way that no other university on earth is. This year's competition promises to be even bigger as we not only replicate the undergrad competition, but also launch the competition on the graduate level as well. I can't wait to read the submissions!"
Adriana Mancini and Crystal Coriano, were the first and second place winners of the 2016 UN SDC. They proved to be young global leaders beyond the competition, and continue to make great strides turning their visions of a brighter future into reality.

Where are they now?
At the time of the competition, first place winner Adriana Mancini was in her junior year of high school. The Florida teen created a campaign focusing on clean water and sustainable sanitation in the developing world. Mancini believes that having better access to clean water will allow girls to spend more time in school, rather than searching for water. Since the competition, she has raised $10,621 to help an African village where 354 people have begun implementing Students 4H2O, the project Mancini developed with two of her classmates. Mancini says the goal of Students 4H2O is also to empower the youth in her community and unite them in fighting against the global water crisis.

In her spare time, Mancini has been busy working on a recycling program that her school system adopted district-wide. In addition, she started the first UNICEF high school club in her district. "I was elected club president and am looking forward to an exciting year raising money and awareness for UNICEF too," said Mancini. She plans to use the $2,500 cash prize from the School's Sustainable Development Challenge to launch a new project that she will present at the H2O Expo Water Fest in the city of Stuart, Florida.

Now a senior from California, Crystal Coriano was the Sustainable Development Challenge's second place winner. She focused her efforts on providing quality education and lifelong learning opportunities. Coriano created a project called Action Changes Things (ACT) that aims to expand educational opportunities for girls and women in developing countries and strengthen communities through grassroots activism. Since the competition, she has made strides towards implementing her project, and is currently developing a website where you can learn more here


Coriano is also focused on recruiting others who can help develop ideas on how to get the local community involved with ACT. She says that collaborating with people from her community will "bring this aspect of quality education to life in a different way."

Be the Change You Wish to See in the World
The Sustainable Development Challenge was created as an initiative of the Center for UN and Global Governance Studies at Seton Hall's School of Diplomacy and International Relations. Its purpose is to build awareness of the UN's Global Goals, to encourage high school students, college students and college graduates to wrestle with them, and to become part of the solution to the problems that they are most passionate about. Learn more about last year's student finalists, the Center for UN and Global Governance Studies and the School of Diplomacy's unique alliance with the United Nations Association of the USA.

Categories: Nation and World