Thursday, August 31, 2017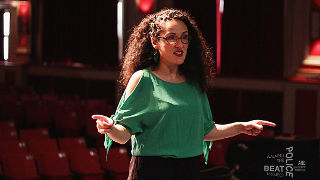 Professor Angela Kariotis Kotsonis speaking with actors on stage.
Photo Credit: Kalex Productions
Professor Angela Kariotis Kotsonis '00 has teamed with a number of community partners to produce a multimedia theatrical production addressing social justice issues while seeking to foster a mutual sense of awareness between the community and the police.
Partners on the project, "Walking the Beat," include: HBO's division of corporate responsibility, the Elizabeth Police department, the Elizabeth Youth Theater Ensemble, Union County Sheriff's Department and Prosecutor's Office and high school students from the Thomas Jefferson Arts Academy.
Professor Angela Kariotis Kotsonis on stage.
Photo Credit: Kalex Productions
Named a 2017 Distinguished Alumni award recipient by the College of Communication & the Arts, Kariotis Kotsonis is teaching oral communication at Seton Hall and is Dramaturge for the wildly successful Brownson Speech & Debate team.
A noted performance artist, Kariotis has toured the United States to critical acclaim. She has been called "a lithe and vital writer-performer" by The Star-Ledger, said to possess "the raw energy to light up a small city" by The Chicago Reader, and described as "funny, moving, and socially relevant" by the Austin Chronicle. She is winner of the New Jersey State Council on the Arts Playwriting Fellowship, Tennessee Williams Theater Fellowship, and the National Performance Network Creation Fund Award.
In this, her latest project, "Walking the Beat," Kariotis created a curriculum and facilitated the workshops for an on-going arts-in-education residency with students from the Thomas Jefferson Arts Academy in Elizabeth, NJ, and members of the city's police department. Police and youth were lead in facilitated dialogue, creative group exercises and writing sessions. In doing so, Kariotis essentially used the arts as a communication tool for community building, initiating positive interactions between youth and police.
Those stories she facilitated were then brought together to form "Walking the Beat," which will stage its debut community presentation on Friday, September 8, 2017 at 7 p.m. at the Thomas Jefferson Arts Academy in Elizabeth, NJ.
Given the success of the experience in bringing police and teens together, Kariotis and the Elizabeth Youth Theater Ensemble plan on developing the work as a national model. In an article in The Star Ledger that featured the project, Kariotis said, succinctly, "This is a program about possibility."
Categories: Arts and Culture