Wednesday, October 25, 2017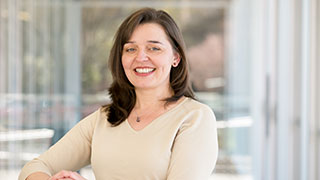 Congratulations to Monika Rice, Ph.D, Adjunct Professor of Catholic Studies and Jewish-Christian Studies for her new book "What! Still Alive?!": Jewish Survivors in Poland and Israel Remember Homecoming. Syracuse NY: Syracuse University Press, October 2017.
This book examines the process of creating a collective memory of postwar encounters of Holocaust survivors with their Gentile neighbors in a transnational context. Based both on testimonies recorded in Poland immediately after the war, and on others recorded later in Israel, this comparative analysis reconstructs the world view of a tiny minority of survivors of a once vital Jewish community in Poland, and clarifies shifts in how they understood their surroundings amid a changing geo-political reality. The research shows that, in the early testimonies from Poland, the survivors rarely mentioned their postwar encounters with Poles; those that did, displayed shock at a hostile Polish reception, through a reporting style that suggest the limits of language itself on dealing with significant events. In the later testimonies from Israel, on the other hand, the survivors are more vocal about their negative postwar encounters with Polish neighbors, as they employ explicitly Zionist narratives of exodus or arrival to the Land of Israel. That Zionist paradigm, furthermore, which emphasizes the heroism of ghetto fighters over that of "ordinary" survivors, appears, paradoxically, to be both resisted and reinforced by the narratives of arrival to the Land of Israel.
This project involved a first investigation of two under-utilized collections of two of the most important Holocaust archives for studying the postwar period: the Jewish Historical Institute (Warsaw) and Yad Vashem (Jerusalem). It resulted, in part, in certain unexpected conclusions regarding the survivors' actual memories of their Gentile neighbors. These conclusions call into question some of the accepted historical interpretations, whether of the allegedly uniformly negative first impressions of the survivors in their hometowns, or of the positive adaptation of the survivors in Israel.
Dr. Rice earned her Ph.D. in Near Eastern and Judaic Studies at Brandeis University and her M.A. and B.A. in Cultural Anthropology at the Adam Mickiewicz University in Poland. She teaches courses in Catholic Studies and Jewish-Christian Studies, including Catholic-Jewish Dialogue on the Holocaust: A Catholic Perspective and Modern Women of Faith.
Before teaching at Seton Hall University, Dr. Rice was a Claims Conference Saul Kagan Fellow in Advanced Shoah Studies, an Albert Abramson Fellow in Holocaust Studies, and a Ruth Ann & Nathan Perlmutter Fellow.
Categories: Arts and Culture , Faith and Service